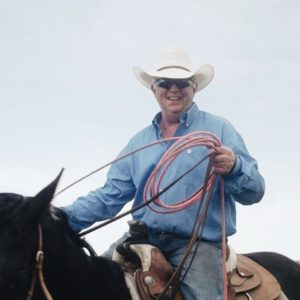 George John Howard, 59, peacefully entered the gates of heaven on November 26, 2017. He was surrounded by family and friends.
Born in Denver, Colorado to parents, Roger and Janice Howard, George grew up in Arvada, Colorado. As a young child, he loved cowboys and the western way of life and was actively involved in the National Little Britches Rodeo Association, Colorado High School Rodeo Association and the National Intercollegiate Rodeo Association.
George attended Northeastern Junior College where he met his future wife Julie Waitley. While he was at NJC he worked his way through school shoeing horses and working on the Thompson horse ranch where he perfected life skills he used throughout his career. He went on to earn his Bachelor of Science in Agriculture Education from Colorado State University.
George married Julie Waitley on July 17th, 1982 and they moved to Dodge City, Kansas where he worked for Dodge City Community College teaching Equine Management and was the Assistant Rodeo Coach.
Southwestern Oklahoma State University in Weatherford, Oklahoma next hired George to be the Assistant Rodeo Coach and to teach classes in Equine Science and Industrial Technology. George also earned his Master's Degree at SWOSU in Industrial Technology. George was at SWOSU for 13 years. It was during their time in Weatherford that George and Julie expanded their family with two beautiful daughters Chyann and Brooke.
In 1997, George was hired by the University of Wyoming to be the Head Rodeo Coach. In his career, George coached 7 National Championship Teams, 27 Individual Champions, and numerous Regional Championships and National Runner-up's. In 35 years of coaching, he qualified a team for the College National Finals Rodeo each year.
George also served on the National Board of Directors for the National Intercollegiate Rodeo Association for 10 years, was the Wyoming State 4-H Horse Extension Agent and taught various agriculture classes throughout the years.
George enjoyed hunting, fishing, and working with his hands doing woodwork. He loved children and traded Hot Wheels and Match Box cars with them. George had a natural gift of teaching and coaching. His ability to analyze and build intricate toys and furniture was a true talent. He never missed an opportunity to coach/help someone. Most of all he loved spending time with his family.
George was a man of integrity, wisdom, knowledge, patience, loyalty, responsibility, compassion, and honesty, just to name a few. He was known for his manners and kindness towards others.
George is survived by his parents Janice and Roger Howard, wife Julie of 35 years all of Laramie, WY, their daughters Chyann (Troy) Brandemeuhl, Brooke (Brian) Bulgrin, grandchildren Brynn Bulgrin, Levi Brandemuehl and Braydee George Bulgrin (born the day after his passing) all of Douglas, WY, sister Jody (Kyle) Malone of Keenesburg, CO, father-in-law Frank (Andrea), brother-in- laws Roy (Erin) Waitley all of Iliff, CO, Tom (Valerie) Waitley, in Waco, TX, and Matt (Sandy) Waitley in Grant, NE, numerous aunts, uncles, cousins, nieces, nephews, and friends.
Services to celebrate George's life will be held on Saturday, December 2nd, 2017 at 1:00 p.m. at the Cliff and Martha Hansen Livestock Teaching Arena in Laramie, Wyoming. Refreshments will follow. In lieu of flowers, the family asks that memorials be made to the George Howard Memorial Scholarship Fund at Security First Bank in Laramie, Wyoming. 608 Grand Avenue Laramie, Wyoming 82070.