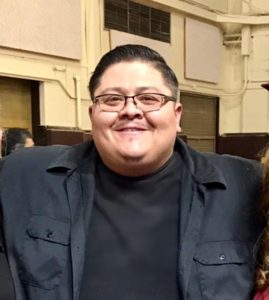 Dustin J. Burrowes, 36, of Laramie passed away peacefully in his sleep Saturday October 21, 2017 at his home in Laramie. He was born October 22, 1980 in Laramie, the son of Arlie Martinez and Jerri Burrowes. He received his education in Laramie, later attended junior college in Riverton, WY before returning to Laramie where he opened Tyme Tattoo as a successful tattoo artist. Dustin was a great father, son, brother, and friend to all. He could always be counted on to provide advice, an ear, or a shoulder. If you sat in his tattoo chair or crossed his path you know he was a great person and we are all blessed to have shared part of our lives with him. He was passionate about his work, was an amazing artist, and loved San Francisco, where he vacationed often. For those of us that have the great fortune of his art on our bodies, let it forever be a proud and powerful reminder of his smile, his love, and his genuine kindness. We love you Dustin, you will be sorely missed.
"One day, if I go to Heaven, I'll look around and say, 'It ain't bad, but it ain't San Francisco.'"
He was preceded in death by his grandfather, John Burrowes. He is survived by his children, Maria Burrowes, Alicia Burrowes, Isaac Pino, Dezarey Garcia; his mother Jerri Burrowes (Bill Kersting), father, Arlie Martinez; his grandmother Leah Cosner; the love of his life Linda Flores; his brothers and sisters, DaNita Martinez (Brandon Warpness), Rita Muniz (Jose), Danny Vasquez (Stella), Derick Vasquez (Nicole), Deran Vasquez (Tairyn), Desmond Vasquez (Kasondra), Daniel Buckner, and Joshua Martinez (Anna); grandchildren Jayden Garcia and Damien Garcia; and numerous nieces and nephews.
A celebration of his life will be held Friday , October 27 at 1:30p.m. at Laramie Valley Chapel with Pastor Paul Martin officiating. A reception will follow at the Lincoln Community Center. Visitation will be held Thursday, October 26 from 3p.m. until 6p.m. at Montgomery-Stryker Funeral Home.
Memorials may be made to St. Jude's in his memory.