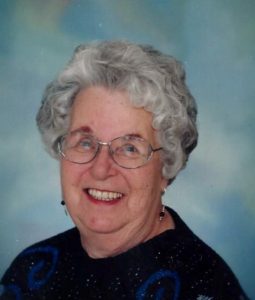 Dorothy Saulino died on Tuesday, June 21, 2016 at the Laramie Care Center on her 92nd birthday after a long battle with COPD.  She was born June 21, 1924 in Jamaica City, NY to Joseph Zebart and Ameila Zebart.  Her mother died in childbirth and her older brother was killed by a trolley when she was 3 years old.  She and two other siblings were raised by her father and stepmother Sophie Zebart.  She graduated from high school in Great Neck, NY.  She was a glee club singer and a star student.
Dorothy raised her four children on her own. She was a hard worker and a strong woman who made sure her children always dressed carefully and had enough to eat, even if they had limited resources.  After her children were raised she attended Farmingdale Agricultural College and earned a certificate in floral culture and design.  She spent many happy years making beautiful arrangements for funerals, weddings, county fairs, and her family and friends.  In the early 1980s she moved to Rawlins, WY to be near her daughter Lorraine and son-in-law Dr. Daniel Klein.
Dorothy was an active member of the Rawlins Senior Center for many years. She enjoyed playing bridge with the senior group in Rawlins and participated in activities such as parade floats and bake sales.  A few years ago she moved to Laramie to be closer to her daughter.
Dorothy was preceded in death by husband Phil Saulino, Sr., her parents, stepmother, brother, Daniel Zebart, and son-in-law Dr. Daniel Klein.
She is survived by her children, Lorraine Saulino-Klein of Laramie, Richard Saulino (Joan) of NY, Carl Saulino (Kathi) of NY, and Phil Saulino of Laramie; seven grandchildren including Victoria Klein (Michael Duff) of Laramie, Elizabeth Huffsmith (Aaron) of Fort Collins, Alexandra Klein of Torrington, and Amanda Saulino of CA; eight great grandchildren including Isabel, Daniel, Miriam, and Emma; and sister Theresa Inman (Jack) of MA.
A celebration of life will be held on Wednesday, July 5, 2016 at 10:30 a.m. at St. Paul's Newman Center with the Reverend Robert Spaulding, celebrant.
In lieu of flowers the family asks for contributions to the Downtown Clinic, Climb WY, or the Sisters of Loretto in Denver CO.