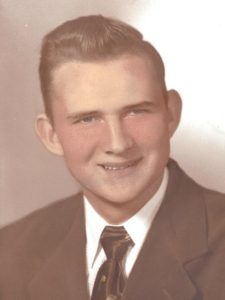 William D. "Bud" Edwards passed away peacefully into the arms of our Lord Savior on Friday, March 29, 2019 in the presence of family at Laramie Hospice. Bud was born June 28, 1933 in Fort Collins, Colorado to Wellington and Julia Edwards. He graduated from Laramie High School in 1951. Bud then served in the US Navy as a Machinist Mate aboard the USS Windham Bay from 1953-1957.
After discharge from the Navy he was a long-distance truck driver with Allied Van Lines and later went independent working out of Salt Lake City, Utah. He returned to Laramie after retirement in 1995.  He was a member of the Independent Driver's Association, American Legion Post #14, VFW Post #221 and was an avid model railroad collector.
Preceding him in death are his parents, sisters Mae Seyler, Jean Martin, and Marcia Edwards. Surviving are his sister Barbara (Bob) Seaton of Cortez, CO, special cousin and friend Donice (Roy) Lilley of Fort Collins, CO, special great niece Amanda O'Brien, several cousins and numerous nieces and nephews, great nieces and great nephews and 2nd great nieces and nephews.
The family wishes to extend appreciation to the staffs of Spring Wind Assisted Living Center and Hospice of Laramie for their wonderful and comfort to him in his last years.
A graveside service will be held on Saturday, August 10, 2019 at Harmony Cemetery with military rites and the Reverend Rhett Ivey officiating.  A celebration of life luncheon will be held at 1:00 p.m. following the graveside service at the Laramie Railroad Depot, 600 S. 1st St. Laramie, Wyoming.
Donation in his memory may be made to Hospice of Laramie or a charity of choice.