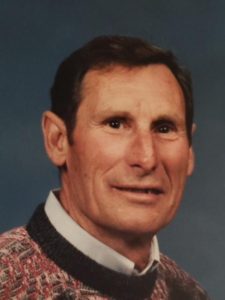 Waymon Earl Sullivan, 93, of Laramie, formerly of Cheyenne, WY passed away on Saturday, August 4, 2018 at Hospice of Laramie. He was born June 18, 1925 in Ecru, Mississippi to Earl and Ola (neé Tutor) Sullivan.
Waymon grew up in Mississippi and enlisted in the United States Marine Corp on November 10, 1943. He served in the marines in the South Pacific and China. He was honorably discharged in February 1946.
He married Betty Jane Castleberry on June 18, 1950 and later moved to Cheyenne in 1961. He was an upholsterer by trade. Waymon enjoyed fishing and hunting.
He is preceded in death by his parents, Earl and Ola Sullivan of Pontotoc, Mississippi; his siblings, Kent Sullivan, Polly Litton, and James Sullivan.
He is survived by his wife of 68 years Betty Sullivan of Cheyenne; his children, Bob (Mari) Sullivan of Cheyenne, Kirk (DeAnn) Sullivan of Woodland Hills, CA; and Mary Beth (John) Smith of Torrington; his grandchildren, Jennifer (Greg) Seitz of Cheyenne, Robert (Jesse) Sullivan of Fort Collins, Thomas Sullivan of New York, New York, Sean Sullivan of Woodland Hills, CA, and Miranda Hacker of Torrington.
Private family services will take place at a later date.