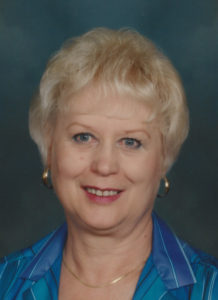 Vina May Logan, 87, of Laramie, went home to be with her Heavenly Father on August 28, 2016. She was born March 1, 1929 in Sargent, Nebraska to Albert and Pearl (née Finley) Oberg. On September 11, 1949, she married the love of her life, Dean W. Logan, Jr., at the Methodist Church.
Vina was extremely talented in many areas. She loved to sing and play the piano and guitar. She also played the organ for Grace Chapel in West Laramie for many years. Her hobbies included knitting, crocheting, woodworking, sewing, painting, and playing golf. She loved collecting teddy bears and always had a great sense of style. She made almost all of her own clothes.
Vina is survived by her two daughters, Laura Logan of Laramie, Jean Logan Johnston of Escondido, CA, and her son, Paul Logan of Beaumont, CA; fourteen grandchildren, twenty-five great-grandchildren, and one great-great grandchild. She is also survived by her sister, Donna Deti, one nephew, and one niece all of Clearlake, CA. She was preceded in death by her parents, Albert and Pearl Oberg, her husband, Dean W. Logan Jr., her eldest daughter, Barbara Louise Bonner, and her grandson, Cade Thomas Page.
As per her wish, no services will be held, but the family will have a private memorial at Bellamy Lake next summer. In lieu of flowers, donations can be made in her name to the National Guard Museum 624 E. Pershing Blvd, Cheyenne, Wyoming 82009.