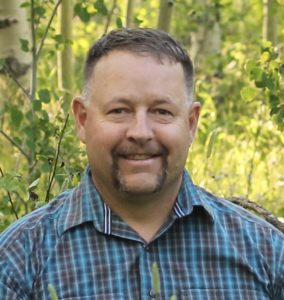 Troy L Jensen passed away at his home March 18, 2020, surrounded by the love of his wonderful family.  Troy's story began September 1, 1965 in Laramie, Wyoming, as the oldest of three sons born to Gary and Peggy (Tschetter) Jensen.   He was raised in Sundance where he met and married his high school sweetheart Tammy (Durfee) Jensen on July 3, 1992.  The love they shared is second to none.  Their union brought two beautiful children into their life; Kaitlyn Marie and Hunter Lee Jensen.
Troy was a true master of wit and his humor will be remembered for years to come.  Those who knew him will always remember that mischievous grin which usually meant he was going to tease you about something.  The stories shared over the past month were just some of the hilarious times spent with countless friends and family.
He was an avid outdoorsman with a love of fishing, hunting and anything outdoors.  So many shared Troy's time in the outdoors including his faithful hunting dogs, Zac, Gus and Aspen.  It is said that on many occasions he ended up in the water for one reason or another.  Not always intentionally!
Above all else, Troy was a great friend and viewed all friends as family.  He was the first person many would call for help.  He was there at the drop of a hat, often opening up his home to those in need.  His compassion for people was evident in the family and friends surrounding him in his time of need.  He was a true friend and a very strong human being to the end.
Troy graduated University of Wyoming with a degree in Psychology.  He began a long time career in law enforcement in Harlingen, Texas, and spent many years as an officer with the University of Wyoming and City of Laramie.  He was a skilled carpenter and spent much of his time making beautiful furniture.  His talents were many and he could tackle any project and was truly a jack of all trades.
Loved ones waiting in Heaven for Troy are Grandparents Elmer and Lillian (Ritchie) Jensen, Fred Tschetter, Hilda (Wagner) Tschetter, and In-laws Richard and Betty Jean (Duca) Durfee.  Loved ones that will miss Troy deeply until they meet again are his loving wife Tammy, daughter Kaitlyn Jensen, son Hunter Jensen, parents Gary and Peggy Jensen, brothers Travis (Johnnie) Jensen, Cory (Michelle) Jensen, sisters-in-law Trudy (Mike Schubarth) Durfee, Dolly (Jett) Schloredt, Liz (Michael) Taylor, brothers-in-law Rocky (LeeAnn) Hopson, Danny (Jan) Hopson, David (Ted) Hopson, Bill (Will) Hopson, nephews Trevor Olson, Cody Terras, Brent Jensen, Coltan Jensen, Mason Jensen, Hayden Johnston, Shad (Kelsey) Schloredt, Jerrett Schloredt, Trey Taylor, Kye Taylor, JR Rea, Paul (Kristal) Sipe, Rocky Hopson, Ryan Hopson, Chris (Andrea) Sipe, nieces Casie Jensen and Colbie Jensen, Sheridan Schubarth, Lindsey (Forest) Sainsbury, Shana (Gil) Garcia, Tomi (James) Folkestad, along with countless aunts, uncles, cousins and friends.
Due to the current health situation, a small service will be held for immediate family.  A 'Celebration of Life' will be held in Sundance, Wyoming at a later date (to be determined).  Honorary pallbearers are Hunter Jensen, Cory Jensen, Travis Jensen, Paul Wick, Brian Roberts, Kevin Huber, Albert Salinas, Kurt Anderson and Jason Geis.
In lieu of flowers, please make donations to 'Hunt of a Lifetime Foundation, Inc.' (huntofalifetime.org), 'Hospice of Laramie' or 'American Cancer Society'.