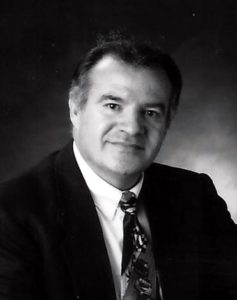 Tony Daniel Sisneros died June 25, 2019, at age 72.  Treece, the love of his life and wife of 49 years, his son Todd, and his daughter, Tera, were by his side.
Tony was born in Las Vegas, New Mexico, to Arabella and Daniel Sisneros.  At the age of twelve, he moved to Laramie to live with his "forever" family, the Cocas.
After high school graduation he served active duty in Fort Lewis, Washington and Fort Huachuca, Arizona.  He then attended the University of Wyoming for two years.  During a summer job he discovered his talent and passion for selling cars.  His outstanding work ethic and love of interacting with the great people of Laramie led him to this lifelong career, most spent at Burman Chevrolet, now Laramie GM Auto.
While working a summer job as a bus boy at the Village Inn in 1965, he met a waitress, also working a summer job, named Treece Fisher.  They dated for five years, and in 1970, married in Las Vegas, Nevada.  They were blessed with a son, Todd, in 1974, and a daughter, Tera, in 1977.
Tony was proud of his twenty-six years of sobriety and loved his AA family.  He was a hug fan and supporter of the University of Wyoming Cowboy and Cowgirl athletic teams and the Denver Broncos.  He enjoyed attending his kids sporting events and was a player/coach for men's and coed softball for many years.  His teammates are sure to remember him saying, "Take the first pitch!" He was a great chef, especially known for his famous hot green chili, sometimes needing to be reminded that pain is not a flavor! Tony's favorite pastimes, however, were dancing a two-step or jitterbug with his wife, Treece, and sitting by her side going for the extra spins and bonus games at the slot machines.
Tony is survived by his wife, son and daughter; his brothers: Rock Coca (Julie), Christy Coca (Tina), Jeff Coca (Tina), Laurence Coca (Alana), Abel Gonzales (Merlynn), Albert Gonzales (Bea), and Joseph Gonzales; his sisters: Teri Frazier (Jeff), Lila Coca, Mary Ellen Earnhardt (Mark), Julie Wright (Jay), and Tommie Baca (Casey); his brother-in-law Mike Fisher (Sharon) and many special nieces, nephews and cousins.
Tony was preceded in death by his biological parents, his forever Mom, Cora Coca, brothers Jerry Coca Jr. and John Gonzales,  his little sister, Francis, and his niece, Jessica Coca.
Tony's family thank the amazing Ivinson Hospital dialysis and Hospice staffs of Laramie, the Eppson Center's transportation and health and wellness departments, Montgomery – Stryker Funeral Home for their care and compassion, and all of the incredible family, friends, and neighbors in the wonderful Laramie community.
Per his request, there will be no services.  There will be a Celebration of Life (open house) to greet the family and share any special stories.  It will be held at 1459 Wyman Ct. Monday, July 1 from 4-8 p.m.