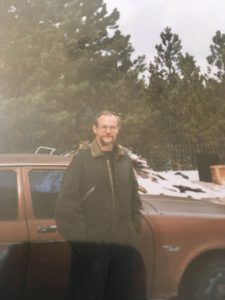 Thomas William O'Brien age 67 of Tie Siding, Wyoming passed away in his home on the evening of March 24 2018.  Tom was born in Sacramento, California on December 4, 1950 to James J. O'Brien and Helen M. Harlow.   His family moved to Inglewood, California when Tom was age 2 where his grandparents William and Thelma Harlow had a prominent role in his upbringing.  Tom attended elementary school at Ramsey Military Academy in Santa Monica and graduated from Inglewood High School.  He was confirmed into Lutheran church in 1963.
After high school Tom entered the United States Air Force and spent a significant portion of his adulthood serving his country.  During his service Tom had more than seven overseas tours of duty, several of which were to Vietnam.  Tom specialized in Security and Investigations during his military career and received 14 different medals/awards for his achievements.  Two of the more notable medals being the Republic of Vietnam Gallantry Cross medal, and the Air Force Commendation Medal, with one oak leaf cluster. Both medals are given for acts of heroism and valor, which defined Tom's dedication to his unit and his country.  During his years of military service Tom logged more than 1037 hours of higher education through both military and college courses, always striving to better himself and his ability to perform his duty.  Tom retired as a Master Sergeant after his 20 years of service due to injuries he suffered during his service.  After his career in the Air Force, Tom moved to Tie siding, Wyoming where he enjoyed his passions of gunsmithing, shooting, hunting, horseback riding, and his great danes.
During his life, Tom has touched many lives and hearts.  He is survived by two sisters, Sharon Neebe and Margery Yungkans, brother Steve O'Brien as well as his son John O'Brien.   Many others saw Tom as a father, brother, confidant, counselor or best friend.  Friends and family would joke about his direct manner of speaking, that resulted from years of military service (no sugar coating things with him), or his resolute stubbornness that he was known for. More importantly everyone spoke of how big his heart was, how much he cared for everyone, and how he tried to help anyone he could.  Tom gave without expecting anything in return.  He was an amazing listener and would give his wisdom to those who sought it.  Those who knew Tom can attest that he was an extraordinary man, that brought beauty to their lives.  He is greatly loved and missed by so many!
Tom's remains will be placed to rest at Fort Logan National Cemetery on April 9, 2018 at 1:15 PM.  Anyone wishing to attend must be at staging area C, no later than 1:00 PM that date.
Throughout his life and to the day of his death, Tom was a devout Christian as well as a follower of his Cherokee beliefs.  He was not afraid of death and was sure of his path to his Lord.  He would want his loved ones to have comfort in this, and to not to feel sadness or hurt for his departing.