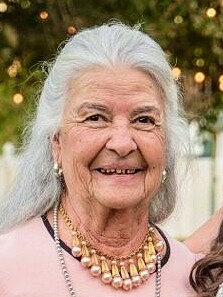 Sylvia Rose Miller (Almendares), was born September 3, 1937, in Dixon, New Mexico and was taken   by the angels while surrounded by family on Monday, September 4, 2017 at Ivinson Memorial Hospital.
Although Sylvia's life took a different path when she was diagnosed with dementia she was able to continue to enjoy the many things she loved at home because of her son Jeff and a very special person, Bonnie Jordan, who became a part of the family in so many ways. Because of these two, Sylvia was able to experience new things and enjoy the things she always loved such as going to bingo, getting a pedicure, having her hair done, enjoying the afternoon at the park watching all the children play, working in her yard, going for a drive or just visiting over a cup of coffee while snacking on cookies.
Although Sylvia's illness affected her mind it never interfered with her smile, that could light up any room, her infectious laughter or her love for her family, fishing, spoiling all animals, garage saling, her love of all things sweet such as cookies and danishes, playing bingo, working in her yard and garden and spending time in the mountains.
Sylvia was preceded in death by her parents Candido and Dolores (Rael) Almendares, her husband, Donald E. Miller and her sister Pearl Almendares.
Sylvia is survived by her children, Jeff Theis (Laramie), Shavon Theis (Tucson, AZ), Tony (Lisa) Theis (Laramie), and Yolanda (Tim) Daniels (Sheridan, WY). Grandchildren Amanda (Felipe) Infante, Dustin (Katie) Daniels, Ashley (Willis Miller) Daniels, Dylan Daniels, Kacee Theis and Johordan Theis and two great grandchildren, Collin and Ethan Infante. She is also survived by her siblings, Elden (Laura) Almendares, Melvyn (Linda) Almendares and Donald (Waiva) Almendares and many nieces and nephews.
Funeral services will be held at Montgomery-Stryker Funeral Home on  Saturday, September 9, 2017 at 10:30 am. Visitation will begin at 9:00 am until the service. Burial will follow at Greenhill Cemetery.  All family and friends are welcome.  A reception will follow the service.
The family would like to give a big thank you to the amazing nurses and doctors, especially those on the second floor, at Ivinson Memorial Hospital, who cared for Sylvia while she was there. Their kindness, compassion and willingness to ensure that both Sylvia and the family were comfortable was an unexpected gift. In many ways the staff too became a part of the family, especially when they joined the family in celebrating Sylvia's 80th birthday.