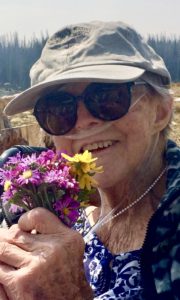 Shirley M. Nielsen, born Shirley Maria Morse, of Laramie, died peacefully in her sleep on Tuesday, June 26, at Spring Wind Assisted Living in Laramie, just two weeks before her 95th birthday. She was born to Florence and Frederick Morse in 1923 in Hyde Park, Massachusetts.
Shirley was a very accomplished woman and outdoor enthusiast. She received her early education in Mass.  She received nurse's training at Beverly Hospital in Beverly, Mass., graduating with an R.N. in 1945.  She came to Wyoming in 1946 where she worked as an RN for United Air Lines in Cheyenne and later at Ivinson Memorial Hospital.  She started work as an RN with the University of Wyoming Student Health Service in 1948 and worked there as an RN, RN Nurse Practitioner and Nursing Supervisor until her retirement in 1986.
She married Marinus C. Nielsen in August 1948, and they lived happily together in Laramie until his death in 1995.
Shirley was a member of the University Women's Club. She enjoyed biking, hiking, downhill and cross-country skiing.  She was also an artist, an avid teddy bear maker, and collector.
After retirement she traveled extensively with the Colorado Mountain Club, completing many overseas hiking and biking trips, then river trips in Europe.
She is preceded in death by her parents; her brother, Warren; and her husband, Marinus.
She is survived by her cousins in Massachusetts; her nieces and nephews in Nebraska and Colorado.
It is Shirley's wish that cremation take place with her ashes to be scattered in the Snowy Range Mountains. No plans for a memorial service has been scheduled at this time.
Memorial contributions may be made to the Laramie Animal Shelter at 1064 North 5th Street, Laramie, WY 82072