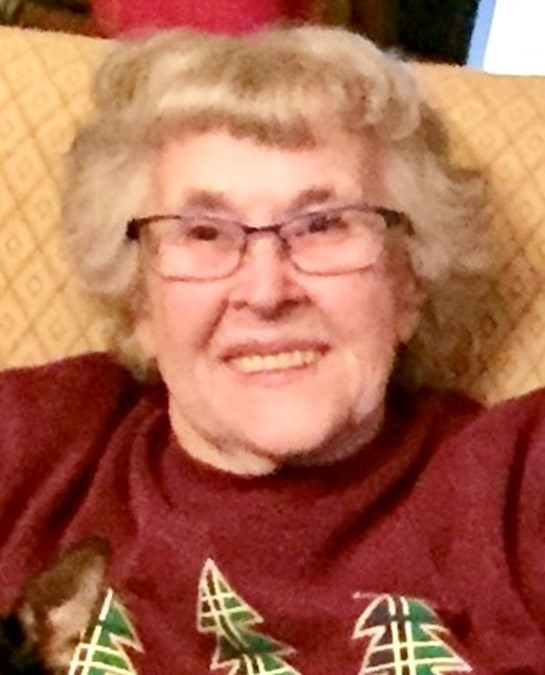 Shirley Joan Wells Blake, twelfth of twelve born to Mary Ann Richards and John Wells at their family farm outside of Howard Kansas, arrived September 25, 1934. She passed away on September 2, 2022, at her home in Laramie, Wyoming, surrounded by her children, into the outstretched arms of her late, loving husband.
Her siblings are, in order, Eula Marie, Hazel Olive, Mary Lucile, Dorothy Elizabeth, John Cleland, Wilbert Stanley, Wanda Annette, Neva Jean, Helen Louise, Robert Louis, and Virgil Glen.
She worked at the farm, attending the nearby one-room schoolhouse (which she and her husband later purchased as a vacation getaway). She met the love of her life, Earl Forrest Blake, at a dance and married him August 28, 1953, in Howard. They eventually settled in Dodge City, Kansas, where they had a huge garden and a constant stream of visitors.
Her three children are Kathy Sue (Chuck) Evans, Cindy Jo Ann (Max) Hammer, and Randall Forrest (Linda) Blake.
Once her children were self-sufficient, Shirley spent years traveling Kansas and the US with her husband in his work as an installer with Western Electric. She loved people and was happiest in the service of others. She could be found happily gardening, playing cards, laughing, loving, teasing, cooking, baking, sewing, knitting, and crocheting, always having one or more projects underway. She loved gifting her plant cuttings, baked goods and handiwork, and she eagerly passed on her vast knowledge, serving as a Ford County 4-H Fair judge (winning many blue and purple ribbons herself) and teaching knitting and crocheting.
She was proceeded in death by her parents, all her siblings (with the exception of one brother), her husband, her son-in-law Chuck Evans, and her grandson Nicholas Terry Blake.
She is survived by her brother Virgil, her daughters and son, their spouses Max and Linda, granddaughter Leslie Hammer, grandsons Aaron (Jill) Evans, Timothy (Tina) Evans, Benjamin Evans, Joshua (Rozlyn) Williamson, Alexander (Kristel) Blake, Dominic Blake, legions of nieces, nephews, great grandchildren and great, great grandchildren.
A celebration of life service, officiated by Pastor Steve Salmons, will be held at Laramie's Montgomery-Stryker Funeral Home on Thursday, September 8 at 11:00 am, with a reception to follow at Cornerstone Baptist Church.
Inurnment and a life celebration will also be held at the Howard, Kansas, cemetery on Saturday, October 1, 2022, with a reception to follow in the Cox Building, downtown Howard.
If you wish to make a donation in her honor, please make it to Hospice of Laramie (or your local Hospice).