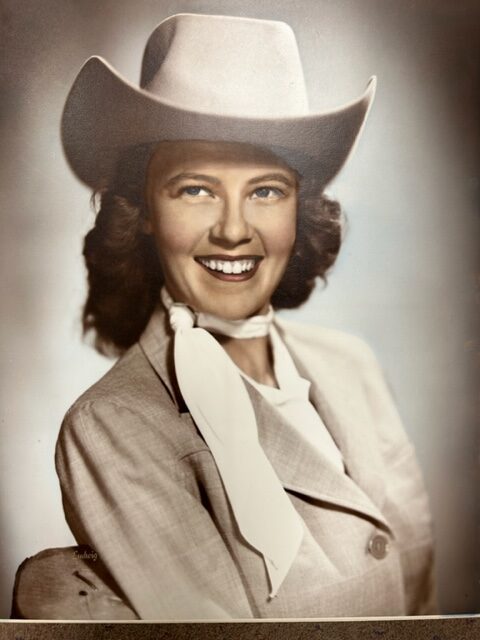 Shirley Dawn (Wright) Lilley, 90, of Laramie, peacefully passed from her earthly home and went to be with her Lord on Friday, March 17, 2023. She was born August 29, 1932 in Cheyenne, WY to Alan (Curly) and Nina Wright. Her father was a bricklayer by trade, but also a very skilled horseman who trained horses for his family and others. In High School, Shirley helped with the training. She said, "He took the buck out, I put the miles on." The family moved to Laramie where she graduated Laramie High School in 1950. She attended the University of Wyoming for a year, where she was on the rodeo team, becoming an accomplished rodeo cowgirl. In 1952, Shirley and Frank Lilley were married. That year, they moved to the 57,000 acre Chimney Rock Ranch in Albany County, where they spent the next 35 years, their entire married life together, as ranch managers and raising their three children Clay, Carol, and Julie. Shirley never shied away from any of the work cattle and children require. Fencing (often in rough country on foot or horseback), haying, cooking, bookkeeping, checking windmills and water, all between checking, doctoring, and moving cattle prior to gathering, sorting and shipping 5,000 head with 50 different brands in the fall, were the things she did while raising her kids and supporting her husband. Dick Johnson, a neighboring rancher, said that Shirley was the best cowhand that he had ever known.
Shirley grew up deeply involved in ranching and agriculture and passed that love onto her 3 children, 12 grandchildren, and 17 great-grandchildren. She and her brother Floyd were also involved in rodeo, and Shirley won the All-Around Cowgirl at both Wyoming and CSU (then Colorado A&M) rodeos in 1950. She also won Barrel Racing at the Laramie Jubilee Days rodeo in 1960, something she is especially proud of since she prepared for that win with three small children at home. When Shirley met Frank, they were a great couple, and when they married, they found out they were a great team also. Shirley and Frank raised three very well-rounded children, operated Chimney Rock Ranch, and later worked as public servants. With Shirley's continuous support, Frank served as Albany County as County Commissioner for many years until his death in 1987. Shirley was then appointed to finish his term and was re-elected for another term. She also enjoyed serving as an election judge for nearly 50 years and as a bailiff for nearly 10 years.
Shirley's 74 years of involvement in Laramie Jubilee Days began in 1949 when she was named Lady-In-Waiting, then in 1951, Shirley served as Laramie Jubilee Days Queen. Shirley helped with kids' events in the LJD rodeos during the 1960's. In 1976, she started the Kids' Horse Show and continued to the present time. She also was instrumental in the Team Penning each year for as long as it was held. Shirley was also awarded a Gold Card from the Professional Rodeo Cowboy Association for years of volunteering at Laramie Jubilee Days. For many years, she had been involved with the royalty committee, and helped to research, compile, and print Jubilee's Golden Years of Royalty, a history of the first fifty years of Jubilee Days Queens. She also helped Kerin Castle contact past Queens for the Silver Queen Book. In 2000, Shirley was given the honor of LJD Parade Marshall, as well as an Outstanding Volunteer Award.
Because of Shirley's extensive involvement and many years of volunteering in the community of Albany County, she received the 2004 Community Service Award, which is given by the Laramie Lions Club and the Laramie Boomerang. Her community impact and accomplishments are almost too numerous to mention, but here is a short list with some of the highlights: Charter member of the Albany County Cow-Belles, member of the Wyoming and American Cattle Women Associations, Ag in the Classroom Board member, Treasurer of the Cow-Belles Scholarship Committee, Co-Chair of the Ag Expo Committee for many years and continued helping every year, Ag Service Award, 1996 Ranch Woman of the Year, Steer-A-Year Donor for 10 years, member of the Friends of Albany County Public Health, and member and Treasurer of Friends of Community Recreation for 30 years, which brought about the Laramie Recreation Center.
She was passionate about history and cherished spending time with her best friends, Dicksie May and the late Rita Parker and Bertha Ward, working on preserving and documenting ranch and family histories for the Albany County Ranch History Project.
Even through all of her activities, this wonderful woman found time for her family. Shirley raised three kids and helped raise 12 Grandchildren, and 17 great-grandchildren. Every grandchild or great-grandchild has enjoyed her cheers from the sidelines and grandstands in whatever activities they were involved in. She has accumulated tons of cookie dough, doughnuts, and magazines for various fundraisers for all the clubs they were in and is a source of love and wisdom in each of their endeavors. She saw to it that each grandkid would be able to attend the University of Wyoming and supported all of them in whatever they chose to do after.
She is preceded in death by her husband, Frank P. Lilley; parents, Nina and Curly Wright; father and mother-in-law; Charles and Julie Lilley; brother and sister-in-law, Floyd and Maxine Wright; brother-in-law and sister-in-law Charles Lilley Jr. and Katherine Lilley, and sister-in-law, Donice Lilley.
She is survived by her children, Clay (Marianne) Lilley of Laramie, Carol (Larry) Pancost of Stoneham, CO, Julie (Roger) Lorenzi of Laramie; her grandchildren, Kirby (Dixie) Berger, Kyle (Stacy) Berger, Hadley (Emilee) Berger, Oscar (Stefanny) Lilley, Eli Lilley, Amanda (Patrick) Lewallen, Abbey Robbins-Lilley, Trey Lorenzi, and Jori (Jordan) Steele; her great-grandchildren, Kaden, Bayla, Bryndal, Bexton, Braycen, and Bastian Berger; Burris, Neacy, and Thayne Berger; Althea, Cannon, and Tank Lilley; Cooper and Lincoln Lewallen; Roan Steele; Kinlee Shoemaker; Tres Miller; her brother-in-law, Roy Lilley; her nephew Eldon (Eileen) Wright and grand-niece Frannie Wright. She is survived by many more family and friends.
Memorial services will be at 1:00 p.m. Monday, March 27, 2023 at the Albany County Fairgrounds. Memorial donations may be made to the Albany County CowBelle Scholarship mailed to P.O. Box 2157, Laramie, WY 82073 or the Laramie Special Olympics mailed to "Special Olympics Wyoming- TEAM LARAMIE" 239 West 1st St, Casper, WY 82601.