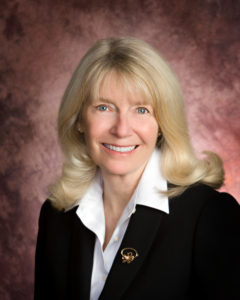 Sharon Ann Fitzgerald was born August 19, 1950, in Denver, Colorado to Ray and Ann Hebenstreit. She spent her childhood summers at the ranch homesteaded by her maternal grandparents in north central Colorado.  When the time came to choose a college, she followed in the footsteps of a beloved uncle who had attended the University of Wyoming.  She was a member of Chi Omega, graduating with an English degree in 1972. 
She met her husband of 47 years, James Fitzgerald, at her freshman class orientation, but their first date was two years later when Jim was home on military leave. They married in 1972.
After graduating from college, Sharon spent four years teaching, including a year in Burns, Wyoming.  She then returned to the University of Wyoming to study law, graduating in 1979.  The Wyoming Supreme Court had recently instituted judicial clerkships for top law graduates who worked for the Justices for terms of one to two years, performing legal research.  She clerked for Justice McClintock and upon his retirement, for Justice Brown.
She then started her own private practice in Cheyenne.  After a few years, she and Jim formed the Fitzgerald Law Firm.  Over the course of her career, she won 29 of the 30 appeals she argued in the Wyoming Supreme Court. The American Academy of Appellate Advocates recognized her skill and elected her to membership.  Sharon was a stellar example of what an attorney should be: a thoughtful and diligent advocate for her clients, always doing her utmost to assist those in need. 
Although her accomplishments as a lawyer were many, she was most proud of her family.   While attending law school, Sharon had her first son, Daniel (Heather), raising him and four more wonderful children: Sarah (Jason), Kathleen (Christopher), Michael (Julianne), and Thomas (Monica), all while practicing law. Sharon deeply loved her children and was dedicated to them from the day they were born.
Her family was the most important thing to Sharon, and she passed her family values on to her five children who are close friends and always help and support each other.  In recent years, she joyfully welcomed four grandchildren: Theodore, Oliver, Imogen, and Leah.  Sharon's love extended to all who came into contact with her. She always had a huge smile and welcomed everyone who walked through the door.
Sharon died peacefully on July 18, 2019, surrounded by her husband James and all of her children. In addition, she is survived by her two brothers-in-law, Thomas (Philecia) Fitzgerald of Cheyenne and John (Mollie) Fitzgerald of Hermosa Beach, California and their families, and two sisters-in-law, C.J. (Matt) Waters of Mercer, Pennsylvania, and Susan (Bryan) Fitzgerald of Sandy, Utah and her family, and numerous nephews, nieces, aunts and cousins.  Dr. Phyllis Kinney, long-time companion of B.J. Fitzgerald, Sharon's father-in-law, also survives her.
Sharon's remains will be interred at Greenhill Cemetery in Laramie at 2:00 p.m. on Friday, August 2nd, which will be followed by a Celebration of Life at the Alice Hardie Stevens Center at the Ivinson Mansion at 3:00pm.  All are invited to attend either or both.