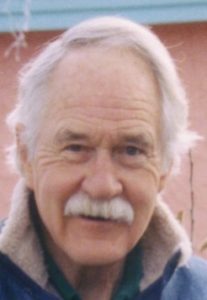 Seymour Lytton Sharps, 94, passed away on February 13, 2019, at Ivinson Memorial Hospital in Laramie, Wyoming.  He was born in Hanover, New Hampshire, on January 15, 1925, the fourth of six sons to Joseph and Agnes Sharps who had emigrated from England in 1914.
Joseph was a master gardener, trained at Kew Gardens in London, who found employment at summer estates in New Hampshire.  His longest place of employment was on the family estate of John Hay, the U.S. Secretary of State to Presidents William McKinley and Theodore Roosevelt.  Seymour and his five brothers enjoyed growing up on the Hay Estate, since in the off-season they had free run over its thousand acres on Lake Sunapee.  His love of the outdoors started here, and inspired by an article in the Pathfinder news magazine, Seymour started his lifetime hobby of bee tracking and keeping.
Seymour joined the U.S. Army Air Force upon his graduation from high school in 1943.  After his discharge in 1946, he entered the University of New Hampshire under the G.I. Bill, and graduated with a B.S. in Geology in 1950.  After a summer field course with the University of Illinois in southwestern Colorado, Seymour started graduate school at the University of Colorado in Boulder.  There, he received both his M.S. and Ph.D. degrees in Geology.  He also met a fellow graduate student, Ellen Spranz, and they married in 1952.
After a brief career as a mining engineer in New Mexico, Seymour joined the Shell Oil Company, exploring for oil in the western U.S.  He started with Shell in Casper, Wyoming, but was shortly transferred to Salt Lake City, Utah.  Later transfers took Seymour and his growing family to Colorado, New Mexico, Texas, Colorado again, and finally to Houston, Texas, where the last seven years of his career were with Pecten International.  He worked in the Philippines, Belize, Brazil and Paraguay.  While Seymour participated in many oil and gas discoveries, it was the last that meant the most to him. In a very deep structure off the coast of Brazil, Seymour discovered in the subsurface petrology that the quartz grains were coated with chlorite.  This coating maintained the reservoir porosity despite the compaction at such depths.  This discovery was the basis for the very large and currently producing Santos Basin gas field.  Seymour worked on many wells during his career and he especially liked the French rigs, with a French chef and the excellent cuisine.
After retiring in 1986, Seymour turned to another of his interests in carpentry and built summer homes in Idaho and Colorado.  He also helped his son Daniel farm in Colorado.  Seymour was interested in horticulture and particularly liked growing and grafting fruit trees.  He enjoyed reading and had quite the collection of books.  Crossword and Sudoku puzzles, and the game of Scrabble, were also favorites.
Seymour was the last leaf on his family tree.  In addition to his parents, he was preceded in death by all his brothers and their wives (Dr. Claud and Louise, New Hampshire; Albert and Priscilla, Connecticut; Ralph and Margaret, Oregon; Joseph and Patricia, Colorado; Thomas and Lois, Colorado).  Seymour was also preceded in death by his dearly loved son, Daniel.  He is survived by Ellen, his wife of 66 years; daughter Andrea Sharps and her husband Charles Horgan of Spokane, Washington; son Dr. Robert Sharps and his partner Dr. Charlene Smith of Corning, New York; and daughter Nancy Sharps and her husband Dr. Michael Leite of Chadron, Nebraska.  Seymour is also survived by many nieces and nephews.
Seymour was a good person who always tried to do the right thing at the right time.  His family was the most important thing in his life and he loved us all unconditionally.  We are fortunate to have had each other for so many years, and we are grateful that he passed away peacefully.  May he rest in peace, and we will miss him for the rest of our lives.  For those who wish, donations can be made in Seymour's name to a charity of choice.  A private memorial service will be held later in the year.