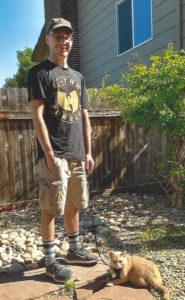 Samuel ("Sam") Henry Gunder Shelstad, age 20, of Laramie, Wyoming and Fort Collins, Colorado passed away on July 26, 2018.  He was the beloved son of his mother, Kristen Sprinkle, his father Mark Shelstad, and step-mother Jenn Geringer. He was a 2016 graduate of Laramie High School and had enrolled for classes with Front Range Community College for this fall.  Sam had been a manager at Little Caesars of Laramie in 2017-2018. He had a wry sense of humor and liked playing with his cat Simba. Sam loved being outdoors and hiking with his friends at Vedauwoo.
He is survived by his sister, Yi Yan Shelstad of Laramie, Wyoming; and preceded by his brother, Zachary Shelstad.  Other surviving family members include his grandparents, Marilyn and Leo Sprinkle of Laramie, Wyoming; Ethel and Marlowe Shelstad of Madison, Minnesota; and numerous aunts, uncles, and cousins.
A memorial service will be held on Saturday, August 4,2018 at Montgomery – Stryker Funeral Home, at 10:00 a.m. Following the service will be an inurnment at Greenhill Cemetery, and reception at Spring Creek Elementary School gymnasium.
In lieu of flowers donations can be made in Sam's name to the National Suicide Hotline or the Laramie Animal Welfare.
Arrangements are under the direction of Montgomery-Stryker Funeral Home.  To send condolences or to sign the online guestbook, please go to www.montgomerystryker.com