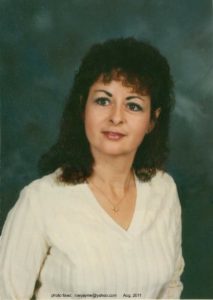 Ruth White passed away March 13th, 2017 after a nearly two year battle with cancer. She fought with all she had and often more. She was born on January 28th, 1946 in Canon City, CO.
While attending school, Ruth exceled in both band and singing. She was a very accomplished singer. After marrying Frank, the family moved to Oklahoma where they had a log truck business and roofing business. After a few years, the family moved to Wyoming where they owned another trucking company. While living in Wyoming for many years Ruth managed several businesses, continued to sing at local fairs and also danced in a fun western can-can group for parades and shows. In addition Ruth was also an accomplished athlete who loved playing softball in local leagues. She was a catcher by position but a great hitter and people often joked she had to hit the ball so well because of "less then amazing running speed"! After her first husband passed away in December of 1985, Ruth moved to Guernsey WY where she eventually met her husband Steve and they settled in Laramie. While there she rekindled her love of motorcycles, both street and dirt bikes through Steve. They became a regular site at races all over the Rocky Mountain region. She was often the "pit Mom" to not only Steve but also Chris and Allan at races and anyone else who was hungry. No one ever went hungry around Ruth and her fantastic cooking! She loved camping and animals. Often combining the two with their dogs and riding her own dirt bike in the mountains to try and see wildlife. Ruth had a special place for animals.
She is preceded in death by her father, Arxety Stone, mother Esther Stone, brother David Atencio, and her first husband Frank Jeffries.
She is survived by her husband Steve White of Laramie and two sons, both in Colorado, Chris Jeffries and Allan Jeffries and his wife Ayesha Jeffries; and her two grandchildren Lance Jeffries and Nicole Jeffries. She is also survived by her numerous aunts, uncles, and cousins in Canon City, Colorado and Cheyenne, Wyoming.
In lieu of flowers please make any donations on her behalf to the Humane Society of your choice. She would love that as her final wish.
Cremation has taken place. No services are scheduled at this time.