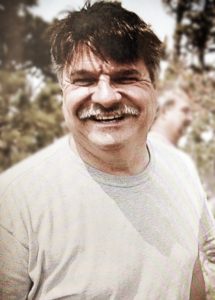 Roy Darrell Collins, 58, of Laramie, passed away on Wednesday, June 19, 2019.
He was born on October 4, 1960 in Cheyenne, WY to Donnely Darrell "Pete" and Peggy JoAnne (Hays) Collins.
Roy enjoyed the perks of working for UPS, enjoying his customers and being able to socialize with them. He had a love of boats, lots of boats and the Los Angeles Chargers, playing fantasy football with his family for many years. Roy is known to be a jack of all trades, doing and teaching his sons mechanical work, selling and swapping things, and woodworking. He also enjoyed hunting, fishing and camping. Although he loved to do many things, he mostly loved his children, he was their number one supporter. He was a wonderful, father, grandfather, son and brother. He had a huge heart and would do anything for anyone. He also had a talent for making up his own song lyrics and singing them with his family. Roy enjoyed art; he saw the potential of true beauty that is often overlooked.
He will be missed by many.
He is preceded in death by his father, Darrell "Pete" Collins and his close friend, Mikey Snow.
He is survived by his mother, Peggy JoAnne Collins; his children, Alecia Suzanne Gallagher, Cassie Royann Morgan (Matthew), Brendan Darrell Collins, Desti Marie Collins, and Kyle Roy Collins; his grandchildren, Tayla Suzanne Collins, William "Buddy" Gallagher, and Vena Dee Morgan; his siblings, Mike Collins (Patty), Craig Collins (Michelle), Patt Collins (Donna), Steve Collins, Cathy Jo Leslie (Kevin), and Lori Ann Guffey (Troy); his uncle, Rick Hays; and his numerous nieces and nephews. He is also survived by his life -long friend and soulmate, Carolyn Hurwitz; and his life-long friends, "Uncle" Todd Eads and Tim Jeramias.
Memorial services will be held at 4:00 p.m. Saturday, June 29, 2019 at Montgomery-Stryker Funeral Home.
Memorial donations may be made to the Roy D. Collins Memorial Fund c/o ANB Bank, 3908 Grand Ave. Laramie, WY 82070.