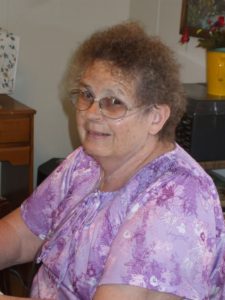 Rosella "Rosie" Lee (Lane) Parker
Born:  November 2, 1942
Died:  February 26, 2018
Rosella "Rosie" Lee (Lane) Parker, was born on November 2, 1942 in Longmont Colorado to Eloise Agusta (Woodcock) Lane and George Glen Lane. Rosie's father preceded her in death, and she was raised by her mother and extended family.  Rosie's family was a pioneer family, one of the first 50 families of Colorado. Rosie's mother worked across the street from Longmont High School at the local diner. Rosie spent many weekends at the local Roll-O-Rena skating rink. It was there she met the love of her life, Norman Lee Parker. They were excellent skaters and enjoyed dancing on skates, much like you see ice skaters do today.
Rosie wed Norman Lee Parker on September 3, 1961, at the Presbyterian Church in Longmont. They had three sons, Clifford Allen (7-23-1962), Kim Lydell (5-6-1964), and Chet Stanley (3-30-1968). The three boys were born at Longs Peak Hospital, in Longmont. Soon after, in 1967, the family moved to Walden, Colorado. Their family was always busy working, but they always had time for fun also. Family and friends were always visiting, whether to camp or go hunting. Rosie would almost always make some homemade ice cream and/or homemade cinnamon rolls and take it to the camp site, even if it was snowing!
When they lived in Hebron, a few miles west of Walden, between Walden and Steamboat Springs, cross country cycling was popular. Rosie would come home from work and bake cookies and make iced tea that she kept by the side of the road in an old school desk, along with a notebook for the bikers to sign and have a snack. She had bikers from all 50 states and numerous foreign countries stop by to sign the book and stop to chat and tell stories. She became known world wide as the "Cookie Lady", for her kindness and open heart. How many lives did she touch? She was always generous with whatever she had.
In 1979, Rosie and Norman bought 40 acres just east of Walden and made a home of their own. Rosie was always busy, whether making her world-famous cinnamon rolls, or creating handmade crafts, she always seemed to be busy.
Rosella worked at the North Park Jr., Sr. High School as a custodian for nearly 20 years. While working there, the students thought it was great fun to hide her cart, which she called "Fifi", from her. She would then go around the school calling for "Fifi". Due to health issues, she had to retire from the school just short of reaching her full retirement.
In February, 2018, Rosella became ill. She was rushed to the hospital, and passed away on February 26, 2018. Rosella joins her husband Norman, her youngest son Chet, her mother Eloise (Woodcock) May, father George Glen Lane, stepfather Everett May, brother Glenn Lane, and sister Loretta Lane. She is survived by two of her sons, Clifford and Kim Parker, granddaughters Willow and Misty and their mother Judy, brother Ralph Lane, and numerous nieces, nephews, cousins, in-laws, and out-laws.
A memorial service will be held in late spring, or early summer, to make it easier for far away family and friends to attend, without the need to travel on snowy, icy roads.