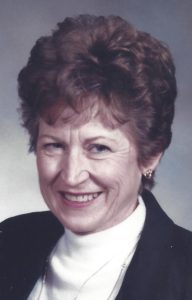 The gates of heaven flung their doors open wide and trumpeted the arrival of an amazing new angel while those of us left behind mourn the loss of a gracious woman.  Roberta Gayle Raitt left this earth on March 8, 2019 at 6:33pm in Laramie, Wyoming surrounded by her amazing groom of 70 years and her family.  Roberta was born August 15, 1932 to Chester and Beryl Beagle.
Roberta leaves behind her husband Keith K. Raitt, daughter Barbara Jean Christensen, Son-in-Law Ronald Christensen, Grandson's Jacob and Luke Christensen, Granddaughter Sheila Oster and 4 great grandson's.
She was preceded in death by her parents Chester and Beryl Beagle, Brother Donavon Beagle, daughter Betty (Janie)Wyninger, Grandson Lyle Wyninger, Son-in-law Chester Wyninger.
Roberta was born and raised in Campbell County Wyoming where she met her husband. She married Keith Raitt on October 23, 1949 before finishing high school.  They then moved to Laramie, Wyoming, Casper, Wyoming and then back Laramie, Wyoming for Keith's position at the University of Wyoming. Roberta led an amazing life dedicated to her family, husband and being a dedicated member of the community.  A simple paragraph cannot relay the wonderful journey Roberta experienced while on this earth. Roberta was a member of the Eastern Stars, PEO and the Presbyterian church.
Services will be at the United Presbyterian Church in Laramie, Wyoming on Thursday, March 14, 2019 at 11:00am.  Private burial to be arranged in Gillette, Wyoming at a later date.
Memorial donations may be made to Hospice of Laramie.