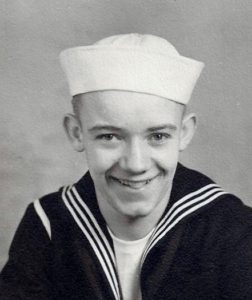 Robert "Ray" Warren, 91, of Laramie died Friday, December 16, at his home.  He was born August 29, 1925, in Laramie, to Joseph Warren and Annette Pennock.
Ray was preceded in death by his parents; his older brother, Francis; his older sister, May; and his younger sisters, Minnie and Nancy.
Ray was drafted after high school graduation and served in the U.S. Navy during WWII.  Upon returning from military service, Ray worked on a seismograph crew in Arizona and New Mexico.  Ray then spent most of his life working for the U.S. Postal Service as a letter carrier in Laramie. Ray also worked at Western Research Institute.  Ray was a member of the Moose Lodge and American Legion.
Ray is survived by his wife, Annelene Warren; daughter, Heather Warren; step daughters, Lisa Herbst and Christina Schroder; and step-son, Joseph Herbst.  He is also survived by his grandchildren, Hunter Whitney, Gavyn Bienzle, Ashley Schroder, Brittany Schroder, Amanda DeBona, Michael Herbst, Meryssa Herbst, Emily Herbst, MyKayla Herbst and several great grandchildren.
Per his request, cremation has taken place and a memorial service will be held by his family at a later date.