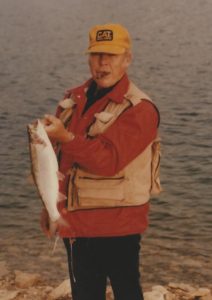 Robert (Bob) L. Bath was born in Los Angeles, CA on December 10, 1924, the son of Louis John Bath and Mary Louise McHugh Bath, Wyoming pioneers. His parents had moved to California with four nephews to be stuntmen for MGM. In 1925 the family returned to Laramie and eventually moved to Arvada, CO. They lived on a fruit farm, raising raspberries and apples. Bob occupied his time pond fishing. After Bob's father passed away in 1932, his mother moved the family back to Laramie. She became ill and Bob and his siblings spent the next four years at St. Joseph's Orphanage in Torrington, WY until his mother remarried Ches Wallis in 1937. He attended Laramie High School where he played football and boxed, being named an All-State Guard his senior year. Graduating high school a semester early, he went to work for the Union Pacific Railroad calling crews until June of 1943, when he received his high school diploma and draft notice the same week.
He trained at Fort Knox, Kentucky in tanks and then in radio operator school. Bob was proud that he was the battalion champion in boxing and was able to box in the preliminary rounds before the Joe Louis/Billie Conn boxing exhibition.  After Ft. Knox he was sent to Ft. Mead, MD for more basic training, until shipping out of New York for Glasgow, Scotland, then to England for advanced radio operator school.  He landed in Normandy, France just after D day and joined the Second Armored Division (Hell on Wheels) as a radio operator relaying firing instructions to numerous artillery units. Bob earned 5 battle stars in France, Belgium, Holland and Germany and was among the first troops to occupy Berlin.
He returned from the war in Dec. 1945 and enrolled at the University of Wyoming on the GI bill. In 1946 he boxed for the UW Intramural Team and was Light Heavyweight Champ.  In the spring of 1947 he walked onto the UW Football Team. He played for 2 seasons (1947 & 1948) blocking 5 kicks (3 extra points against Denver, Utah and BYU and 2 punts against Colorado and Northern Colorado).  He received the first Bowden Wyatt watch, designating him as the "Spirit of the Team" in 1947 and was named Honorable Mention All Conference in 1948. He received his Bachelor of Arts degree in 1949 and his Juris Doctorate in Law in 1952.  In the fall of 1950 he met his wife, Doris Barnard from Evanston, WY, who was working as a medical technologist at Ivinson Memorial Hospital and on December 18th of that year they were married.
After receiving his law degree & passing the bar exam, he established a law practice in Laramie with two other men for ten months. Soon after that he took a job with New York Life Insurance for 1 ½ years. He was also working from four to midnight for Union Pacific as a call boy "to make ends meet." Not wanting to waste his education, he moved his wife and two daughters to Rock Springs in July 1954 to practice law. His family grew to eight (three sons and one more daughter) and he practiced law until 1987, including 16 years as Sweetwater County Attorney, as well as 4 years as Public Defender and 4 years as an Assistant County Attorney. Bob also held the office of President for the State of Wyoming County Attorneys' Association.
An avid fan of UW sports, he and Doris held season tickets for football (60+ years) and women's basketball. He was awarded the "UW Greatest Football Fan Award" by the Wyoming Chapter of the National Football Foundation in 2008.  Together they helped take fans to football games in planes, trains and automobiles: the Sugar Bowl, Holiday Bowls, Copper Bowl and even a trip to Houston with a connected fishing trip to Galveston.  And who can forget a football game in Arizona with a roundtrip to Spain and Africa. Then there were years of watching their children participate in football, wrestling, swimming and golf from grade school through college.  In retirement there were many trips with friends and family to Hawaii, Alaska, the Fall Festival in New England, Branson, MO, Switzerland, Panama and Canada.  With a motor home and 5th-wheeler many trips were made to Arizona and their beloved trip all throughout Alaska.
Bob loved the outdoors – fishing, camping,  gardening – and sports – all of them, bowling and golfing up into his mid-80's.  He was instrumental in getting the Young American Football league started in Rock Springs.  Often Bob would pack up all the Vermont Street kids (among others) and take them on many adventurous outings, whether it was just to Kiwanis Field, floating down the Green River or hiking in the Wind Rivers.
Bob joined his loving wife, Doris, on April 15, 2017 on what would have been her 89th birthday.  He was also preceded in death by his parents, his brothers, Thomas "Mack" Bath, Louis "Jack" Bath, and sister Mary Lou.  He is survived by sisters Kathryn Hammons of Riverton and Regina David of NC, sister-in-law Jackie Bath formerly of Laramie, WY, his six children and spouses, Roxanne and Ron Glassburn of Laramie, Margaret Bath of Crandall, TX, John and Lorna Bath and Fred and Darcy Bath all of Rock Springs, WY, Robert and Lynne Bath and Patricia and Zyg Samiec, all of Douglas, WY, thirteen grandchildren and twelve great-grandchildren. He is also survived by his two cats, Zortia and Thor whom he promised his wife that he would take care of when she passed.
A memorial service will be held June 17, 2017 in Pinedale, WY. Donations can be made to the charity of your choice.