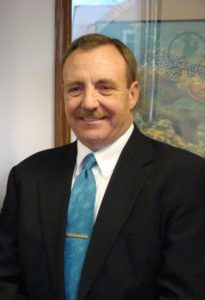 Rob DeBree, 58, passed away on September 2, 2016. At the time of his passing, he was enjoying two of his most cherished activities: spending time with his son, and hunting.
Rob was born July 19, 1958 to Shirley and James DeBree, in Port Huron, Michigan.  Following a move which would later take the family to Montana, he attended several schools and graduated as an accomplished athlete from Bozeman High School in 1976. Rob excelled in both baseball and football.  Rob would attend Montana State University, where after a year as a student-athlete playing football, he enlisted in the United States Air Force.
Upon completion of his military service, DeBree would marry Alyn Hayes in 1980, though they would later divorce in 1986. Rob welcomed the adoption of his daughter Danae Horst, in 1980, and celebrated the birth of his son, Josh, two years later.
Rob began a highly successful career in law enforcement and ultimately became a highly decorated and respected 34-year career.  Rob joined the Douglas County (Colorado) Sheriff's Office in 1980.  DeBree's dedication and work ethic would promote his noteworthy rise to the rank of Corporal within the same year. Following three years of service, Rob moved to Laramie, Wyoming to fulfill goals of being closer to family, as well as the opportunity to serve with the Albany County Sheriff's where Rob was employed until the time of his death.
Reflected in numerous professions and professional awards, undoubtedly DeBree's greatest source of pride would come in 1987 upon meeting his best friend and future wife, Susan (Dalles) DeBree. Married in July of the following year, the couple will continue to be remembered for their strong sense of family and generous support of Albany County youth, especially within the community of 4-H.
While Rob's sense of dedication and determination will be remembered by all who knew him, his unshakeable commitment to service and law enforcement will forever define his greatest achievements and personal aspirations.  Reflected in numerous hard-earned promotions, including Deputy, Detective Sergeant, Lieutenant, and Detective Lieutenant, DeBree's highest rank would come in his most recent post as Albany County Undersheriff, a position he thoroughly enjoyed while serving with Sheriff Dave O'Malley
Work in the K9 Program became one of Rob's most cherished achievements. His dogs K9 Axel and K9 Hardy were a source of pride, with both taking awards with the USPCA for their respective excellence in service. As career canine officers who effectively removed drugs from the streets, searched for the missing, and aided in apprehending criminals; DeBree so believed in their contributions and K9 program itself that he paid for his dogs personally.
Rob received the American Legion Lawman of the Year in 1998, and the Human Rights Campaign Equality Award in 2002, for his work during the Matthew Shepard homicide investigation. Recently Rob was presented with the Hometown Heroes Award.
While serving as Detective at ACSO, DeBree was instrumental in solving many cases, one of which was the controversial 1998 death involving UW student Matthew Shepherd.
While membership and service as former President of the Wyoming Peace Officers Association further demonstrates his willingness to serve and protect every citizen in his community.
Rob's devotion and love were most deeply invested in the care and commitment he provided for his countless friends and absolutely cherished family. Known to work hard and to play hard, DeBree made an indelible impact on all who were fortunate to know him. He was a son, a brother, a loving husband, a father, an uncle, a grandfather, an outdoorsman, a hunter, and a friend to many.
Celebrating a life with no regrets, Rob will be most lovingly remembered by those he most loved and survive him: his mother and father, Shirley and Jim DeBree; sister, Gaylene Borden (Buddy); wife, Susan DeBree; son, Josh DeBree (Brande); grandchildren, Braiden, Hunter and Baylee, daughter, Danae Horst (Bill); brothers-in-law, Mike Dalles (Sally), Brian Dalles (Kay); Bill Dalles; nephews, Buddy Borden, Brady Borden, Wes Dalles, JW Dalles, Bill Dalles; nieces, Sarah Dalles, Haley Walsh (JT) and Ashley Paulrud (Jesse); and countless friends and extended family.
Memorial services are under the direction of Montgomery-Stryker Funeral Home and will be held at the Albany County Fairgrounds at 4:00 p.m., Thursday, September 8th. A private service will be held in advance at Laramie's Greenhill Cemetery at which time Rob will be laid to rest. Pallbearers include: Mike Dalles, Bill Dalles, Brian Dalles, Matt Kay, JW Dalles, and Wes Dalles. Honorary Pallbearers include: Bill Dalles, Jr., Buddy Borden, Brady Borden, Larry Wostenberg, Jesse Martin, Jeff Hasse, Dan Lantzer, Dave O'Malley, Bill Meyer, Sr., and all members of the Albany County Sheriff's Office.
In lieu of flower, a memorial in Rob's honor has been established with proceeds benefitting the ACSO K9 Program, Albany County Search and Rescue, and Hospice of Laramie, and the Matthew Shepard Foundation. Donations can be sent to: Dalles Ranch c/o Susan DeBree, 179 Dalles Lane, Laramie, Wyoming 82070.