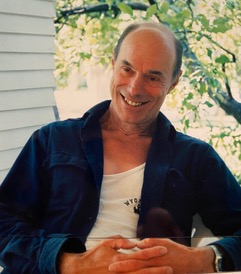 Peter Northrop Shive, 81, passed away on Wednesday, May 10, 2023, with Gail, his wife of 36 years, at his side. He was born July 2, 1941, to John N. and Helen (Connor) Shive in Plainfield, New Jersey.
Peter grew up there, along with his younger siblings, Elaine and Jonathan. As a young man, he attended Wesleyan College (for men) in Connecticut. He met and married Louise Wayne and later drove cross-country to California, where he attended Stanford University, receiving a Ph.D. in Geophysics. Upon graduation, he accepted a position in the Geology Department at the University of Wyoming in Laramie, where he bought a house just three blocks from campus so he could walk to work every day. Their daughter, Amy, was born that first year, and Peter and Louise were together for 12 years.
Peter was UW's first geophysicist. He built an entire magnetics lab at UW where he also taught for 48 years. This was during the birth of the great Plate Tectonics revolution in which it was realized that major land masses had moved, the Atlantic Ocean had opened up, and India had drifted across the Indian Ocean and crashed into the southern part of Asia. Peter was very interested in how old rocks could remember the magnetization they had when they were formed. As it turns out, this has to do with the state of internal stress of magnetic minerals. Studying this became his main research interest.
He married Linda Massey, and around that time began playing semi-pro soccer with Norwegian students for a team called the Budweiser Eagles. Peter and Linda, with daughter, Amy, and son, George, were together for 2 years.
A few years later he met and married Gail Wilhelms, a farm girl from Nebraska, an artist with a Master's degree in Speech Language Pathology. Happily together for 36 years, they bicycled through Great Britain, and traveled to Kenya and Tanzania, Mexico, Switzerland, Italy, Canada, New Zealand, Australia, and the Galapagos Islands. Peter doted on and adored his "Gaily," never hesitating to share his pride in her and his love for her. He often said "You validate me." While still at U.W., Peter became involved with modern dance & ballet, with Gail encouraging him by getting him a few pair of bright leotards. In Peter's words… Modern dance changed his life. It made him a better speaker and more comfortable in his own body.
Peter then moved to the Honors College where he taught "Chaos, Fractals, & Complexity" as well as "The Consciousness of Nature" for several years.
In his later years, Peter took up disc golf, becoming a sponsored professional, with the final victory of his disc golf career being inducted into the World Disc Golf Hall of Fame (2022) for winning 13 world championships.
Six years ago, Peter suffered a significant right brain stroke and later a few heart attacks. After all that, he still said he felt blessed and lucky, that he believed he'd had a great life.
Peter is preceded in death by his parents, John and Helen Shive.
He is survived by his wife, Gail Shive (Laramie, WY); daughter, Amy Shive Levy (Gary), and grandson, Harris (Maryland); Jeff Koehler (Oregon) and Angie Allen (Alabama); sister, Elaine Lent (New Jersey), and brother, Jonathon Shive (Philippines).
Honoring his train hobby, a memorial gathering will be held for Peter on Friday, June 2, 1:00 – 3:00p.m., at the The Laramie Train Depot, 600 S. 1st St., Laramie, Wy. In the "potlicker" tradition that he enjoyed, feel free to bring a potluck finger food to share, and your own beverage.
In lieu of flowers, donations can be made to Hospice of Laramie, 1754 Centennial Drive, Laramie, Wy, 82070.