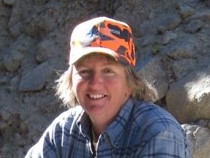 Pamella Sue "Pam" (Christensen) Bowers, 59, of Rock River, passed away on February 13, 2019.  She was born to Johnnie and Patsy Christensen in Cheyenne, WY on October 10, 1959.
Pam graduated from Rock River HS in 1978 and attended Eastern Wyoming College where she played basketball. While attending HS in Rock River, she set the school record of most points scored in a single basketball game by scoring 53 points against Medicine Bow during the 1975-1976 season.  She still maintains this record and is listed as 4th in the State of Wyoming. She married Joe Bowers August 13, 1983.  They have two children, Robert "Bobby" and Kristy.  She enjoyed the outdoors, hunting and fishing with her family, and especially loved arrowhead hunting.  She was a self-taught Taxidermist and ran her own wild game meat processing business for the past 29 years.
Pam is survived by her husband of 35 years, Joe, her children Bobby (Dallie) Bowers and Kristy (Bryon) Kerker; grandchildren, Letty and Haleigh Bowers, baby Bryce Kerker (due in April); parents, Johnnie and Patsy Christensen; siblings, Tammie Sims, Jodi (Dale) Stensgaard, Grant (Mel) Christensen, Trent (Carol) Christensen.  She is also survived by numerous aunts, uncles, nieces, nephews and cousins.
She is preceded  in death by grandparents, Vera and Allan Christensen, Don and Mickey Miller; father and mother in law, Pat and Clarice Bowers; sister, Wendy Davidson and her son Jacob Davidson; brother in law, Olin Sims; granddaughter, Kenzy Kerker.
In lieu of flowers, donations may be made to the Rock River Volunteer Fire Department or the Rock River School PTO Booster Club.
Graveside services will be held at 10:00 am February 22 at the Rock River Cemetery, followed by a gathering at the Rock River Fire House.