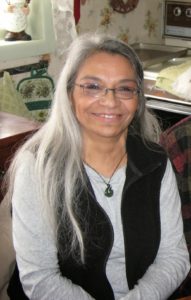 Mildred P. Cortez, 66, of Laramie, died Friday, April 6, 2018 at Ivinson Memorial Hospital. She was born in Laramie on November 28, 1951 to John and Ofelia (nee Martinez) Cortez.
Mildred attended St. Laurence School until the 9th grade and graduated from Laramie High School in 1971.
Mildred was very diverse in many aspects of her life including, her jobs and hobbies. She loved reading and being in the sun. She enjoyed traveling on the motorcycle and camping with family and friends. Mildred had a green thumb, growing many plants, which she shared her joy of plants with family and friends, which many of them have in their household. She became known as "momma" to a vast amount of the community. She had a tremendous amount of love for her family, friends, and everyone that she met. She was a member of St. Laurence O'Toole Catholic Church and was an avid advocate for Veterans affairs.
She is preceded in death by her parents; her sister and brother-in-law, Sylvia and Doug Jones; and her brothers, Randolph and Paul Cortez.
She is survived by her daughter, G. Rachelle Santistevan de Cortez and son-in-law, Jacey Willson of Wichita Falls, TX; her grandpuppy, Whiskey; her siblings, John (Leona) Cortez of Cheyenne, Jose "Tabby" Cortez of Cheyenne, Ruben (Christie) Cortez of Laramie, Gogi (John) Knowlton of Middleborough, MA, and Teri (Pat) Weber of Arvada, CO. She is also survived by her friend, Daniel Santistevan of Laramie; and her numerous extended family members.
Rosary Service will be held at 5:30 p.m. Monday, April 16, 2018 at St. Laurence O'Toole Catholic Church.
Memorial contributions may be made to any Disabled American Veteran's organization in Mildred's name.