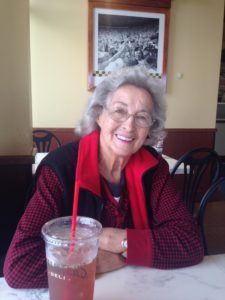 Our dear mother, grandmother, sister, aunt, and friend Mary Frances McFarland died on Thursday, September 28th, under hospice care in Wichita Falls, Texas. She was 83 years old.
Mary was a stubborn, southern sweetheart (Southern Living magazine lost a faithful subscriber) who did not take no for an answer and made friends everywhere she went. From where she was born and raised in Jonesboro, LA to where she settled down here in Laramie, WY she was always busy doing something for someone and has been loved by many. Of those who loved her, many dear to her heart passed away while she was still alive. Through the devastating loss of family, four husbands, and friends, Mary continued to open her heart to love.
If you grew up in her home daycare you knew her as Mama Mary, and she was probably the only person who could have gotten you to eat split pea soup. If you lived in her neighborhood then you've either let the weeds go or started pulling them yourself. If you attended her beloved Seventh – day Adventist church then you knew her as the head deaconess and looked forward to her warm welcome each week. If you knew her at all (including her postal carrier, her trash men, grocery store employees-specifically those working in produce, the woman who permed her hair, and many more), you are already wishing you had asked for that apple butter recipe, and you likely still have one of her jars.
Mary rarely missed a phone call and eagerly waited for the mail each day, as she loved to hear from friends and family. She is preceded in death by her parents Lunar Moffett and James Ira Sowers; her  first husband, Edgar Bishop, her second husband AJ Griffin, her third husband Edwin Reitsma, and her fourth husband, Chuck McFarland; her siblings, George Sowers, Harvey Sowers, Myrtlene Beach, Cecil  Sowers, and  James Sowers. She is survived by her siblings,  Carles (Bobbie) Sowers,  Lorene (Dick) Maxwell, Nellie Wilkes, Dale (Ginny) Sowers, Loyd (Linda) Sowers ; her two children from her second husband (AJ), Ken (Brenda) Reitsma, Teresa (Larry) Rhodes, her two children from her third husband (Edwin), Erwin (Linda) Reitsma, James (Larca) Reitsma; and many grandchildren, great grandchildren, nieces, and nephews. She also thought of the many children whom she loved and cared for in her home daycare as family.
God is preparing a royal garden for her to tend in heaven, but in the meantime we know Mary would have loved it if you planted a flower here on earth in her honor.
Visitation will be held 4:00 p.m.-6:00 p.m. Wednesday, October 11, 2017 at the Seventh Day Adventist Church, 1416 Boswell Dr. Laramie, WY.
Funeral Services will be held at 11:00 a.m. Thursday, October 12, 2017 at the Seventh Day Adventist Church with Pastor Wayne Nazarenus, officiating. Burial will follow at Greenhill Cemetery.
Flowers may be sent to Montgomery-Stryker Funeral Home.