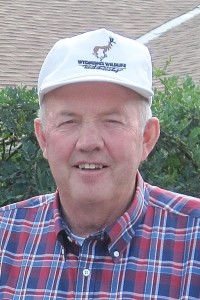 Marshall Wiley Jones was born on November 15, 1952 in Akron, OH to Richard Henry and Annie Eileen (Quail) Jones.   He died at his home near Riverside, WY of an apparent heart attack in the early morning hours on February 29, 2016.
He was known as "Marshall" to his family and friends in his hometown of Watertown, New York and family farm in Monkland, Ontario, Canada and "Wiley" to those of us "out West".   He graduated from Immaculate Heart Central High School in Watertown, NY and went on to receive an Associate's Degree in Forestry from Paul Smith College in Paul Smith, NY.
After graduating from Paul Smith's he came to Rand, CO to work for Huck Gaylord, logging using draft horses.  During the spring breakup he worked for Clarence and Ray Stevens on their ranch in Rand and fondly remembered his days there.   He then moved to Oregon with his best friend, Tom Hartwig, where they cut timber near Eugene.  Tom returned to Colorado and Wiley came to Encampment where he worked for Hines Lumber felling trees and operating a yarder.   In the early 1980's he went into partnership with Patrick Lynch and they formed Jones & Lynch Logging, who were known for their quality logging and care of the land on which they worked.  After a fire at the sawmill in the mid 80's he went to Southeast Alaska and cut the "big trees" before returning to the North Platte Valley.  He and Pat were in business until Louisiana Pacific Mill in Saratoga closed in 2004. He was always a logger at heart and dearly missed working in the timber.
On August 24, 1996 he married Sue Ellis.  They lived on the Kermit Platt Ranch for four years and purchased their own home east of Riverside, WY in 2000.
He spent a year in 2005 working the oil fields in Wamsutter, returning to Saratoga where he and Sue bought a garbage collection business with 100 customers in 2006.  Today Sunrise Sanitation Service, LLC has over 500 customers and a construction roll off business.
Wiley Jones was the personification of kindness.   He was thoughtful and considerate of all, particularly old folks and children.  Many a child stood in long lines waiting to share their Christmas wish with him.    He was a very hard worker and strived to do his best whether felling a tree or collecting someone's trash. His dedication, sense of duty, professionalism, and dependable nature in his work was unmatched. Everything started very early in the morning for Wiley.  He was fond of saying, "You would be surprised how much you can get done if you just get out of bed."
He never met a stranger, many a time stopping to assist someone needing help on the side of the road.  Speaking to total strangers and giving a big wave to folks while driving down the road.  He had a smile for everyone.  Wiley was a man of God with a deep and abiding faith.  He always said he, "Practiced Catholicism according to Wiley" but he also practiced the true lessons of God – love, kindness, forgiveness, caring for your fellow man, and treasuring the blessings of everyday life.   He touched many people, made a difference in many lives, and was a true light to all who knew him.
Marshall Wiley Jones was preceded in death by his parents, sister Margaret Helen Kozlowski, nephew Andrew Schmidt, and mother-in-law Laura Nell Ellis.  He is survived by his wife, Sue; sisters Sheila (John) Schmidt, Hilda (Tom) Kleven, father-in-law Don Ellis, brothers-in-law Tom Kozlowski, Mike (Rita) Ellis, Joe Ellis, sister-in-law Linda (Scott) Platts, numerous nieces, nephews, and other relatives.
He was many things to many people – loving husband, family member, great friend.  Those of us who had the privilege of knowing him were truly blessed and when we remember him we smile.
Funeral services will be held on March 12th at 2 p.m. in the Platte Valley Community Center in Saratoga, WY.  Private family burial services will be held at a later date.
Donations may be made to:
Corbett Medical Foundation, Box 343, Saratoga, WY 82331
Platte Valley Community Center, Box 128, Saratoga, WY 82331
St. Ann's Catholic Church, Box 667, Saratoga, WY  82331