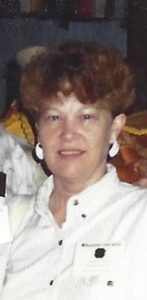 Marilyn, Kay (Searle) McDonald, of Laramie, died on Tuesday 25, 2019 at the Medical Center of the Rockies in Loveland, Colorado. She was born October 17, 1946 in Laramie to Sam and Mickey Searle.
Marilyn attended Laramie Public Schools and the University of Wyoming.
Marilyn worked for the Bank of Laramie, the Albany County School District, the Cavalryman, and then retired from the University of Wyoming.
She enjoyed playing the piano, ice skating, dancing, country music, rodeoing and bowling. She also enjoyed chariot racing.
Marilyn took great pride in being a grandmother and great grandmother. She was a member of the Trinity Lutheran Church, the Women of the Moose, VFW Auxiliary, the American Legion and the Cattlewomen of Albany County.
She is preceded in death by her parents; her brother, John; and her daughter, Tammy Sturdevant.
She is survived by her companion, Gary Mathisen; her daughter, Teresa; her brother, George (Ellen) Searle; her son-in-law Chris Sturdevant her grandchildren; Colten, Aiden, Creed and Kiyan and great granddaughter, Lyric;  her nieces, Trish Searle, and Samantha Seals and family; her nephew, Mike Searle and family; and her sister-in-law, Barbara Searle. She is also survived by her bossy cousin, Karla Warren and many others; her life- long friends; and her children's father, Howard McDonald.
Visitation will be from 9:30 a.m.-11:00 a.m. Tuesday July 2, 2019 at Montgomery-Stryker Funeral Home.
Funeral Services will be held at 11:00 a.m. on Tuesday, July 2, 2019 at Montgomery-Stryker Funeral Home with the Reverend Rhett Ivey, officiating. Interment will follow at Greenhill Cemetery.