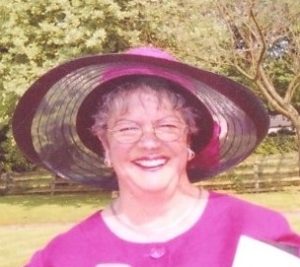 Marian was born February 14, 1941 in Quetta, British India (now in Pakistan) to Vernon and Shelagh (Bailey) Jessup. Her father was a master mechanic in the Royal Army and her mother was a homemaker. The young family eventually moved to Mumbai (Bombay), India before sailing for the United Kingdom in 1948 on one of the last British troop ships to leave shortly after Indian independence. Marian grew up in the London suburbs and she loved telling her family stories of her life as a London girl with a passion for jazz and classical music. Marian came to America from England in early 1972 with her older daughter Lynette, living first in Massachusetts, where her younger daughter Lisa was born, and later in the Rocky Mountain West. Marian became a naturalized U.S. citizen in 1986 but proudly remained a British subject and dual citizen her entire life.
Marian is survived by her two siblings, sister Vivian (Jessup) McLees and brother John Jessup. Both reside in England with their families. Marian is preceded in death by both of her parents.
Marian is also survived by her two daughters. Her oldest daughter, Lynette Seelmeyer, of Fort Collins, CO is married to David Seelmeyer and they have two children, Thomas and Katherine (Katie).
Her youngest daughter, Lisa Nunley, is married to Shawn Nunley and they have one daughter, Miranda. Marian's children and her grandchildren were the loves of her life and brought her endless joy and happiness.
Early childhood education was a passion for Marian. She was employed with the Head Start Program in Laramie for several years, and had worked with small children in literacy programs and preschool programs for most of her adult life. She was an avid reader with four library cards to libraries in England and America and you could often find her spending hours of her time in any library or bookstore, reading. In addition, Marian was pursuing her own college degree in Early Childhood Education.
Marian's passion for life was contagious and energizing. Everyone that met her loved her, and she always made a positive impact on their lives.
A Celebration of Life is planned for Saturday, September 30, 2017 at the Lincoln Center beginning at 1pm. To represent Marian's love of life, please wear bright colors and fancy hats. In lieu of flowers, the family has asked for donations to the Lincoln Center, Laramie Head Start, Interfaith Good Samaritan, or the Albany County Public Library.