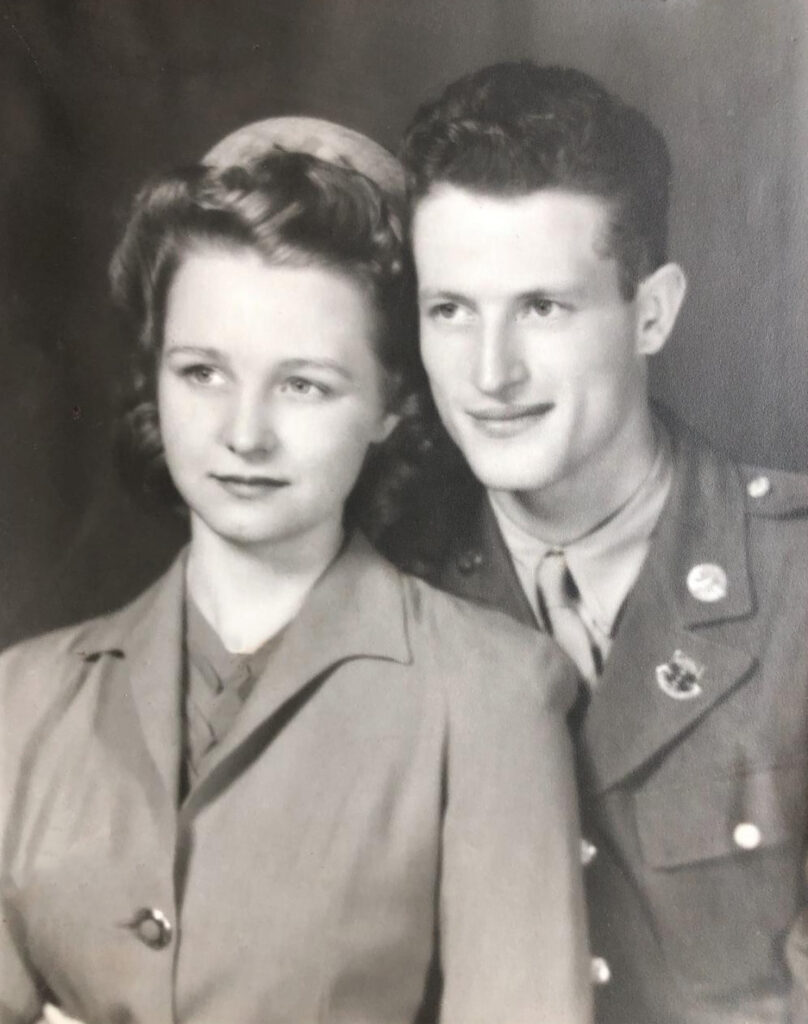 Marian Julia (Fisher) Tillett, 98, died of covid June 10, 2022, at the Laramie Care Center, Laramie, Wyoming, the day after her and Royce's 79th anniversary.
Marian was born on January 20, 1924, in Clarence, Iowa, to Joseph Laurence "Joe" Fisher and Dorothea Katherine "Dora" (Christophersen) Fisher. The Fisher side of the family came from Bohdaneč village and "Kraj" Čáslav town, Kutná Hora district, Bohemia (now Czech Republic), as Marian was fond of saying. The Christophersen side of the family came from the Frisian Islands of Schleswig-Holstein state, Germany. Both sides settled in east-central Iowa.
Marian grew up in Clarence and Mount Vernon, Iowa, the fourth of six kids. Her brothers and sisters were Dorothy, Albert, Robert, Mildred, and Howard. While their father studied music in Chicago, the family lived above their mother's City Café in Mount Vernon. As a child, Marian loved to bike and rollerskate across town, and in high school she was active in orchestra, choir, plays, and basketball. She graduated as salutatorian of the Mount Vernon High School class of '41.
Marian then attended Willamette University in Salem, Oregon, and worked with maps at a USGS office. One day, someone came to her girls' dorm, Lausanne Hall, and asked if any of the women wanted to attend a dance that was being put on for the men of the Fort Lewis U.S. Army base. Marian's roommate had to coax her into going, as Marian had a boyfriend at the time who was in the Air Force.
That's when she met the love of her life, Royce Tillett. Royce was a ranch kid from Lovell, Wyoming, who had chosen to join the U.S. Army's 115th Cavalry Horse-Mechanized rather than finish his last semester of college in geology at the University of Wyoming. He was serving on coast patrol. Marian and Royce saw each other across the dance floor. Marian wasn't interested because she had a boyfriend and lots of girls seemed interested in Royce, but Royce came over to ask her to dance, and the rest is history. He asked her to marry him on a bridge over a river, and they were married on June 9, 1943, in a little church in Steilacoom, Washington.
Marian came to live at the Tillett Ranch while Royce shipped overseas. His unit fought around the French Saint-Nazaire pocket, at the end of the Battle of the Bulge, and into Austria alongside the 101st Airborne of Band of Brothers fame. However, in 1945, both Marian's father Joe and Royce's father Billy passed away, so Marian spent time in Iowa with the Fishers, and Royce received an honorable discharge and returned to the ranch.
Marian and Royce ranched for many years on Crooked Creek at the northern tip of the Big Horn Basin, Wyoming and Montana. They went on to have seven kids, five girls and two boys: Tonee, Nikki, Jerri, Randi, Jim, Rob, and Tamara. Marian and Royce have 27 grandkids, 21 great grandkids, and 4.5 great great grandkids. Marian spent her final years helping take care of her grandkids in Lovell, Portland, and Laramie.
Marian loved music. Throughout her life, she played violin and viola at local orchestras, including that of UW, Northwest College (formerly NWCC), and Clark College (Vancouver, Washington), and she also sang in a number of choirs. She encouraged all her kids and grandkids to play an instrument, and she listened to classical music, often recordings of performances in which she played. She came from a musical family—her father was the head of Joe Fisher and his Concertina Orchestra, which also included Marian's brothers Albert and Robert. The band played for events across Iowa and even made a few records. Marian was very proud that her father had gone to Chicago to play clarinet with the John Phillip Sousa Band at Mr. Sousa's invitation. When Marian was 80, she and an 81-year-old friend drove the ALCAN Highway through Canada to attend a music festival in Alaska, spending evenings in sleeping bags in the back of the truck and hitting a "flexible" tree along the way. After extraction using a 4WD and a bungee cord, she returned with a new bumper sticker saying "I drove the ALCAN and survived."
Marian was an artist who drew, painted, and sculpted, and she also encouraged her kids' and grandkids' art pursuits. She took classes in art throughout her life and went on a number of adventures after Royce passed away in 1991, including whitewater rafting in Utah and an Elderhostel in Australia.
Marian was a bright spirit who believed her loved ones were very special, descendants of kings and other notorious people such as John Dillinger. She was fascinated with genealogy and kept minute track of the Tillett genealogy on a long piece of butcher paper. She was interested in alternative ways of knowing, including ESP, alternative medicine, and visions. She was someone who knew how to make do yet also had the determination to get things done when she set her mind to it. She was kind and easygoing, a gentle spirit.
Marian is predeceased by her husband Royce, her parents Joe and Dora, all her brothers and sisters (Dorothy, Albert, Robert, Mildred, and Howard), her daughters Nikki and Jerri, and her grandson JD. She is survived by her five remaining kids and their children, grandchildren, and great grandchildren.
Marian and Royce are greatly missed.
A special thanks to the nurses and staff at the Laramie Care Center for their loving care in the final years of Marian's life. A memorial for Marian will take place August 28, 2022, on the family ranch on Crooked Creek north of Lovell in the Tillett Cemetery. The memorial will take place in conjunction with Crooked Creek Racing Presents the Dusty Dirty Dog Memorial Horse Races and Barbeque on August 27. Last year, this event honored Marian.
In lieu of flowers, join the Tilletts for the horse race and barbecue or support the Laramie Care Center or your favorite arts organization.