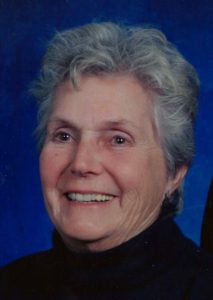 Marguerite Bowden Nelson, 89, died Saturday, November 11, 2017 at Ivinson Memorial Hospital in Laramie Wyoming.  She was born to Samuel Claude and Rose Ulrich Bowden on January 19, 1928 in Wallkill, New York.  Marguerite graduated from Bellevue School of Nursing in New York City and later, along with her sister, Marietta, joined the Air Force.  Later they were stationed  at F.E. Warren Air Force Base in Cheyenne, Wyoming.   Marguerite continued her education at the University of Wyoming, going on to become a school nurse in the Albany County School District.  She also served as an Albany County Commissioner.  She loved to travel and visited all the lower 48 states and Alaska, along with many international destinations.  Along with traveling, Marguerite loved being around family and was active in leadership roles within the AARP community in Wyoming.
Marguerite was preceded in death by her parents , her brother, Sam, and her sister, Rose.  She is survived by her husband, William "Bill" Nelson, and her sister, Marietta Dubey, along with adult children Sandy Schwindy, Pat Nelson, Mike Nelson, Jerri MacMillian, Mary Hahn, Rich Nelson, and their spouses; 11 grandchildren; and 14 great-grandchildren.
A memorial service will be held at 10:30am on January 27, 2018 at St. Matthew's Cathedral in Laramie.  The service will be officiated by The Very Reverend Stephen Askew and arrangements will be made by Montgomery-Stryker Funeral Home.
Marguerite and her family wish that, in lieu of flowers, any memorials be made to the Laramie Animal Shelter at 1064 North 5th Street, or to the Laramie Recreation Center at 920 Boulder Drive.