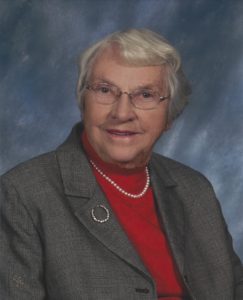 Margaret Louise Prine, 94 died Thursday, November 30, 2017.  She was born Margaret Louise Bolle on March 20, 1923 in Chicago, Illinois to Dr. Harry Albert Bolle and Mabel Virginia Hegberg-Bolle. After having lived in Kansas for several years, Margaret moved to Cheyenne, Wyoming and attended McCormick & Cheyenne High Schools.  She graduated the University of Wyoming in 1943 with BA and 1947 with a Master's in English.  During her education, she was awarded numerous honors and participated in various activities on the campus and throughout the Laramie community, including but not limited to Mortor Board, Student Senate and Kappa Kappa Gamma President.  She stayed active in the local chapter as Advisor or House Board for over 70 years. On February 26, 1944, she married Elmo L Prine in Pasadena, California, prior to his deployment overseas.  They had four sons, all born in Laramie.
Margaret remained active in and outside the communities in which she resided, including Woman's Club and PEO, and served on numerous boards including the board of Trustees for Bacone College for three years.  She worked as a professor at the University of Wyoming and was always a fan supporter and sponsor of sports and arts at the University.  She was a substitute teacher in the Laramie Public Schools.  During the 60's, she spoke at the United Nation on Women's rights in the world.
Margaret loved to be around family and worked with her family in the summers on the Ram's Horn Guest Ranch in Dubois, Wyoming, of which she owned, managed and operated for nearly 70 years. While in Dubois she was active in the Artist Guild and Dubois Museum.
She was also an active and devoted member of the First Baptist Church and the wider Baptist community.  She held many prestigious positions within the Baptist organizations, to include but ton limited to have served as the President of the American Baptist Churches USA for 1984 and 1985, and visiting missions in many countries of the world during her tenure.
She was an artist and a published writer.  She loved to travel, and with family and friends had trip to countries on 6 continents, as well as across the USA.
Margaret is preceded in death by her parents; sister Flora Mae Bolle; husband Elmo L. Prine and sons Jeffrey Lloyd Prine and Jon Breton Prine.  She is survived by sons Craig Albert Prine (Cheyenne, WY), Mark Edmund Prine (Billings, MT), four grandchildren and five great grandchildren.
A memorial service will be held for Margaret Prine on December 8, 2017 at 11am at the First Baptist Church located at 1517 East Canby Street, Laramie, Wyoming.  The service will be officiated by Pastor Jeffrey Lundblad.  Arrangements are made by Montgomery-Stryker Funeral Home. Memorials may be made to Laramie First Baptist Church, American Baptist Mission Societies, American Baptist Women's Ministries, Dubois Museum or philanthropies of your choice.