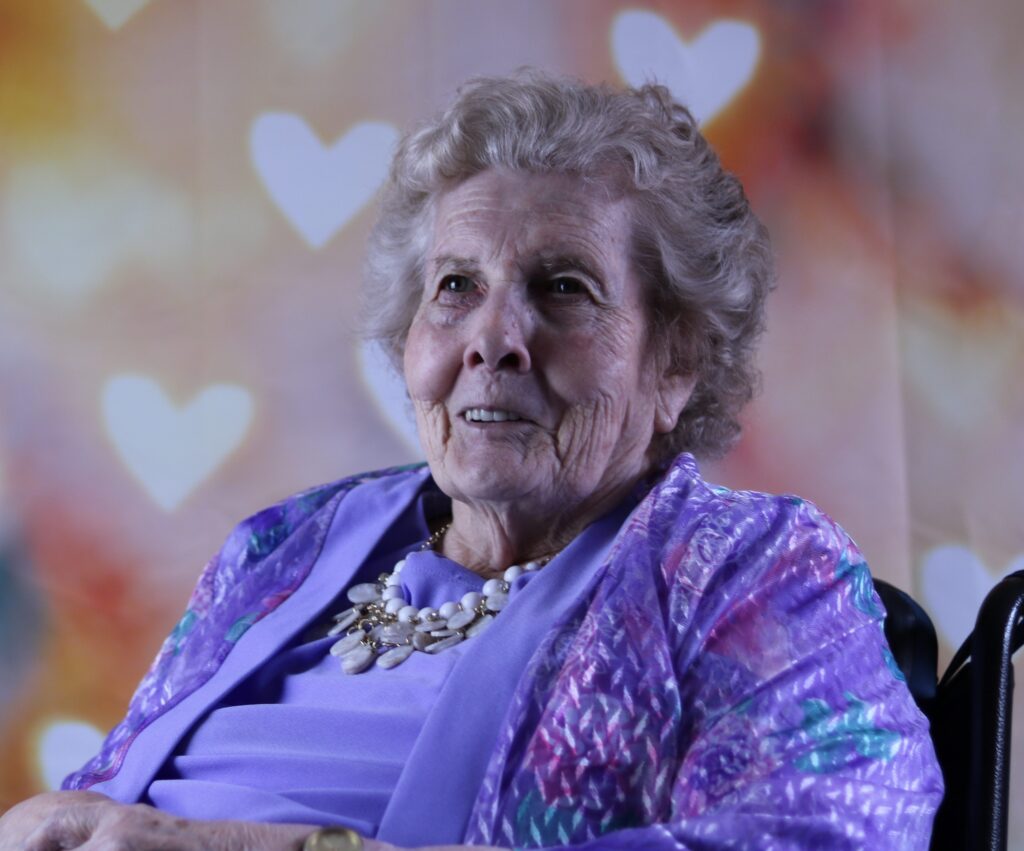 Lucy Joan (Whiteman) Thompson, 88, of Laramie, passed away on January 7, 2022 in Laramie, Wyoming, after a lengthy battle with Dementia/Alzheimer. She was born on February 9,1933 in LeRoy, Wyoming, to Arthur and Zella (Lee) Whiteman. Lucy grew up and attended school in Evanston, Wyoming. After graduating from high school, she attended the University of Wyoming in Laramie where she met the love her of life Billy J. Thompson. They were married October 6,1956 in Evanston. They were sealed for time and all eternity in the Salt Lake Temple June 10, 1973. They lived and raised their four daughters in Laramie.
Lucy owned and operated Lucy's Daycare in her home for 45 years. She helped raise hundreds of children and loved each as her own. Many of the children have stayed in contact with her through the years and have even came back to ask for her "sloppy joes"!
She was active in The Church of Jesus Christ of Latter-Day Saints and served in many positions throughout her lifetime. She loved sharing her faith and love for her Savior. Her home was always open to missionaries, students attending UW, friends, and family where they would come to sing, laugh, cry, and pray.
Lucy will always be remembered for her beautiful heart, listening ear and unconditional love. She never allowed you to leave her home without a special treat (or two)! She was known as grandma to many. She truly was a good and faithful servant.
She was greeted in heaven by her husband Billy, her parents, her daughter Cindy, brothers Jesse Whiteman and Bud Lee, sister Loretta Robertson, and a grandson Connor Johnson.
Lucy is survived by her daughters Linda (Pat) Flynn, of Laramie, Julie (Mark) Camerer of New Jersey, and Lisa Johnson of Laramie; her grandchildren Russell Henderson, Karla (Scott) Linhares, Stacey (Cody) Teal, Matthew (Lacy) Camerer, Michael Camerer, Andrew (Hannah) Johnson, Logan (Katie) Johnson, Sean (Amy) Flynn, and Casey (Jessica) Flynn; her great-grandchildren Russell Wayne Henderson, Ava Linhares, Zoey Camerer, Ensley Johnson, Deirdre Flynn, and Ronan Flynn; her sisters-in-law Kay Whiteman & Joan Johnson; and numerous nephews, nieces, and cousins.
Funeral Services will be Friday, January 14, 2022 at the Church of Jesus Christ of Latter-Day Saints located at 15th and Baker in Laramie, WY. There will be a viewing from 9:00 – 9:45 a.m. Services will start at 10:00 a.m. Interment will follow at Greenhill Cemetery. Services will be livestreamed on Zoom. The Zoom link is: https://zoom.us/j/97314823829
Her loss will be felt by her family and all who knew her. In lieu of flowers, donations can be made to Laramie Downtown Clinic, Loving Locks c/o of Laramie Care Center, Shriners Hospitals for Children, or a charity of your choice in her name.