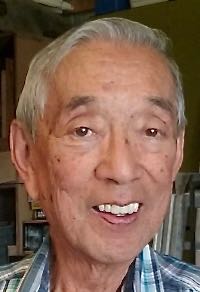 Lt.Col. George Joji Miyake, 85, of Laramie passed away peacefully at home on Sunday, February 4. He was born January 2, 1933, in Beryl, Utah the son of Ichitaro and Shizuye Kano Miyake. He was raised in Beryl until the family moved to Kemmerer, Wyoming. George worked in the family's business, Kemmerer Union Laundry and Dry Cleaners until he graduated from Kemmerer High School in 1953 and left to attend the University of Wyoming on a science scholarship. In 1957, upon graduation from UW in PreMed, he was immediately drafted into the U.S. Army. He served two years at Brooke Army Hospital in San Antonio, TX as a lab tech and then returned to Laramie to attend Graduate School, earning his Master's in Biochemistry. George began working for the Bureau of Mines while attending UW and stayed with them through all the various government name changes, finally retiring ten years after it became Western Research Institute. He also stayed in the Active Army Reserve for over 25 years, competing Army wide as an expert marksman and doing research for the Chemical Corps. George was a CBN (Chemical, Biological, Nuclear) Officer who was especially proud of having helped develop pocket dosimeters for the military. After retirement, George began a whole new career in Laramie. For almost 20 years he owned and operated 'Keely's Kuddles', hand crafting small wooden toys for children. His smiling face could be found every year at the annual Christmas craft sales. He frequented the Vet's Coffee group every Friday at the Eppson Center, often sharing stories of his Army assignments.
He is survived by his wife, Carol, two daughters Cindy Miyake Iovan (Greg) of Boulder, CO, Suzan Crouch (Robert) of Coatesville, PA, two sons George Miyake Jr. (Crystal) of Chattanooga, TN and Brian Miyake (Carrie) of Vancouver, WA.; five grandchildren, Tyler Miyake, Keely Crouch, Austin Crouch, Taro Iovan, and Tori Miyake; sister Helen and brothers Robert, Donald, Henry, and Paul. George is also survived by sisters-in-law Shirley and Mary, brothers-in-law Jerry and Bill and many nieces and nephews. His parents, two sisters (Margie and Rose) and two brothers (Fred and Leo) preceded him in death.
There will be a Celebration of Life, February 18 (Sunday) at the Eppson Center for Seniors (1560 N. 3rd) from 1:00pm-3:00pm. Light refreshments will be served. Private services will be held later in the Spring.