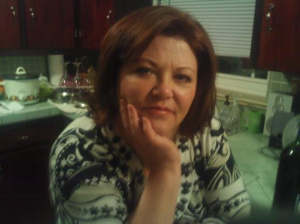 Lori Gay DeMoe McIntyre, age 56, passed away in Grand Forks, North Dakota in the early morning of February 13th after a courageous battle with a rare genetic form of early onset Alzheimer's Disease.
Born in Tioga, ND, on September 5, 1959 to Galen and Gail DeMoe, she was raised in the small oil town of Tioga, ND with her five siblings. She graduated from Tioga High School in 1977 and attended the North Dakota State School of Science in Wahpeton, where she studied automotive parts. While she was still in high school, Lori met her future husband, Steve McIntyre. The two pursued a long-distance romance documented in love letters across several states before they married on March 20, 1980.
A true free spirit, Lori will be remembered for her boldness, her independence, and her compassion. She worked patiently and lovingly for years with special needs children and made friends easily. She expressed her creativity in crafting, sewing, and baking, and her sense of humor was infectious.
Her biggest gift to society was her selfless dedication to Alzheimer's Disease research. After she was diagnosed, she volunteered to participate in groundbreaking studies that shed light on the inner workings of this disease, helping doctors answer questions that have baffled science for generations. For nearly eight years, she traveled to the Alzheimer's Disease Research Center at the University of Pittsburgh to contribute her time and body to this cause.
In addition to her husband, she leaves three daughters: Jessica of Denver, CO; Robin of Laramie, WY; and Chelsey of Riverton WY, and her beloved granddaughter, Claire Kennedy Francom, of Riverton, WY.
A memorial service for friends and family will be held at Montgomery-Stryker Funeral Home In Laramie, WY, on Saturday, February 27th at 2 p.m. A reception will follow at The Elks.
In lieu of flowers the family has requested donations be  made to the Claire Francom Scholarship Fund in memory of Lori McIntyre or The Alzheimer's Disease Research Center In Pittsburgh at the University of Pittsburgh.
"There are things that we don't want to happen but have to accept, things we don't want to know but have to learn, and people we can't live without but have to let go"
-unknown