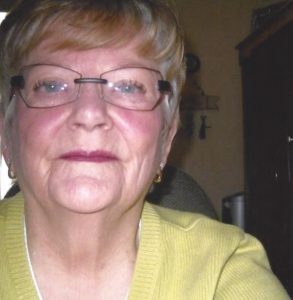 Lois Jean Collins, a 61-year resident of Laramie, passed away peacefully February 5, 2018 at Hospice of Laramie with family at her side.
Lois was born in Sisseton, South Dakota to Ted Fossum and Celesia Devine Fossum in January of 1941. She was baptized, confirmed, and married at Bethel Lutheran, a country church. She was raised on the family farm and remained there until she transferred to the University of Wyoming's Campus High School her junior year, graduating in 1959.
It was in Laramie that she met and married the love of her life, local resident Larry Collins, in 1959. To this union two children were born, Randy Collins and Tami Swinford. The family eventually included 3 grandsons and 3 great-granddaughters. Lois was a loving, caring, and doting wife, mother, grandmother, and great-grandmother. Family came first in her life.
Lois was employed by the University of Wyoming for 24 years. She was the buyer for the gift department at the bookstore and later was secretary to the band director, traveling with the band on many occasions. Her last stint, before she retired in 1995 to pursue other activities, was in the athletic ticket office.
Lois had a great sense of humor and was the family's recreation director; a game player, a card shark excelling in bridge and cribbage, a jigsaw puzzle whiz (always had one on the table), and forever organizing athletic game pools—she liked to win! She was also a creative cook and a knitter extraordinaire, knitting beautiful sweaters, scarves, caps, and baby blankets for family and friends.
Lois is survived by her husband Larry Collins; her children: Tami (Scott) Swinford and Randy (Nellore) Collins; grandchildren, Dalton Collins, Dillon (Kayla) Collins, and Dustin Swinford; great-grandchildren: Alicia Swinford, Lucy Grace Swinford and Aurora Collins; sisters: Pamela (Dennis) Cornelius, Patricia (Ron) McGurk and Marlene Peter; several nieces and nephews.
A Celebration of Life will be held at the Montgomery-Stryker Funeral Home, 2133 Rainbow Ave., Friday, February 16, 2018 at 11 am with the reception following at the Elks Lodge, 103 2nd St., in Laramie. In lieu of flowers the family suggest a memorial be made to Hospice of Laramie, 1754 Centennial Dr., Laramie, WY 82070 or a charity of your choice.