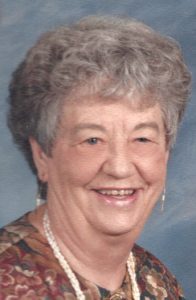 Lois Elizabeth Wiseman was born on May 18, 1927 in her home in Laramie, Wyoming to Melvin and Harriet Harrell.  She attended school in Laramie and graduated from Laramie High School in 1945.  She attended the University of Wyoming and graduated in 1950 with a bachelor's degree in business education and elementary education.  Lois taught in Medicine Bow and at Stanton School in Laramie.  She was also a substitute teacher and taught business classes through adult education.
On June 28, 1953 she married Alden Wiseman.  They made their home in Laramie and had 3 children; Greg in 1954, Lori in 1956 and Scott in 1960.  Lois was a partner in their jewelry store, Wiseman Jewelers. She was also very involved in her children's activities including PTA, Cub Scouts, Campfire Girls and Job's Daughters.  She was a past Honored Queen of Job's Daughters, a member of Eastern Star and a member of First Baptist Church in Laramie for over 75 years.
Lois is survived by her children; Greg Wiseman (Kim) of Rochester, Minnesota, Lori Morrow (Micheal) of Worthington, Minnesota and Scott Wiseman (Kelly) of Laramie; her grandchildren Kathryn Wiseman of Dallas, Texas, Kristen Wiseman of Minneapolis, Minnesota, Robyn Murphy (Brandon) of Worthington, Minnesota, Shelly Schanen (Adam) of Lakeville, Minnesota, Janna Cuevas (Ezequiel) of Brooklyn Center, Minnesota, Brandon Wiseman (Chelsea Armstrong) of Carlsbad, California and Austin Wiseman of Laramie; her great grandchildren Alec, Isabelle and Carter Murphy, Alden Schanen and nieces and nephews.
She was preceded in death by her parents Melvin and Harriet Harrell, her husband Alden, her brother and sister in-law Melvin and Mary Harrell and her nephews Paul Harrell and Michael Wiseman.
A memorial service will be held at First Baptist Church in Laramie on Friday September 28 at 11:00 a.m. with a reception following.  A family burial will take place prior to the service.
Memorials can be given to First Baptist Church Laramie and the Laramie Care Center.