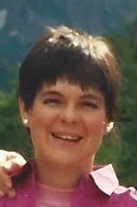 Lisa C. Engle, 62, of Laramie, died Monday, July 30, 2018 at her home. She was born on March 27, 1956 in White Plains, New York to Harris Campbell Jr. and Christie Lent.
Lisa grew up quickly with three older brothers. She loved her Lord and Savior Jesus Christ from an early age. After the death of her father she and her mom moved to Colorado Springs from New York when she was sixteen and attended Palmer High School in Colorado Springs. She graduated from University of Colorado (UCCS) with a B.S. in Psychology and a M.A. in Education. She loved horses and would house sit at a ranch in Woodland Park, CO. She met her husband-to-be, Alan Engle, while attending UCCS. They were married in August of 1986 and took up residence in Woodland Park. Lisa started her own counseling business helping families until her health began to fail.
Daughter, Laura was born in 1987, and Lisa would go on to homeschool her from K to 12. Lisa went on two mission trips to Russia and one to Bulgaria. Her husband Alan took a position of Senior Pastor at Laramie Christian Center and the family moved to Laramie in 2003. Lisa was diagnosed with Rheumatoid Arthritis in her 30's and engaged in a long and painful battle until her death on July 30th. She is remembered for her faith in Jesus Christ and positive attitude through it all. She was an amazing wife and mother and a powerful example of faith and love to all who met her.
She is preceded in death by her parents.
She is survived by her husband of 32 years, Alan Engle of Laramie; her daughter, Laura Morlan (Brentt) of Redding, CA; her step father, Robert Reigel; her stepchildren, Ann Engle of Denver, CO, and Chris Engle (Lisa) of Johnstown, CO; her grandchild, Axel Morlan; and her step grandchild, Rachel Engle and her great step grandchild, Noah. She is also survived by her brothers, Harris Campbell (Katrina), Steve Campbell, and Jeff Campbell (Gail).
A memorial service will be held at 10:00 a.m. Saturday, August 18, 2018 at the Laramie Christian Center with Pastor Elaine Taylor, officiating. Inurnment will take place in New York.
Memorial contributions may be made to the Laramie Christian Center, 1953 North 3rd St. Laramie, WY 82072.