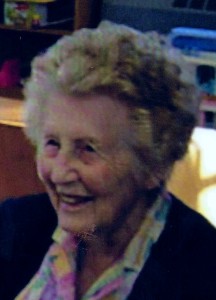 Lila Davis, went to her Heavenly home on Sunday, February 28th in Loveland, CO. She was 99 years young.  Lila is from Laramie,WY where she has lived for the past 40 years.  She lived at Spring Wind for six years and the last year in Loveland, CO.
Her husband Gifford died twenty years ago. They were married in 1938 in Wichita, Kansas.  She was born in Piedmont, Kansas on December 1, 1916.
Before moving to Laramie she and Gifford lived in many places including Alaska, Denver, California and many cities in Wyoming where Gifford worked as a carpenter.
Lila was very active in Home Makers and won the Quealy Award which is a yearly state award.  She is still on honorary member of the West Laramie Homemakers and has held many of the offices in that organization.  She worked in a bank while they lived in Denver and was a wonderful homemaker, seamstress and quilter.
Funeral service will be held at 10:00 a.m. Friday, March 4, 2016 at Montgomery-Stryker Funeral Home. Burial will follow at Greenhill Cemetery.
Visitation will begin at 9am Friday until service time at the funeral home.