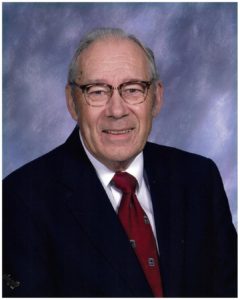 Leroy Robert Maki, 91, of Laramie died Sunday, September 9, 2018 at his home. He was born May 27, 1927 in Astoria, Oregon, son of John Ilmari Maki and Margaret Lovina (Kessell) Maki. He and his two brothers, Leonard and Kenneth, grew up on a dairy farm in Skamokawa, Washington operated by their parents.
He spent his grade school years in Skamokawa, and graduated valedictorian in his class in 1945 from Wahkiakum High School, Cathlamet, Washington. After graduation, Leroy was drafted in to the US Army and served in the Medical Corps. He attended Washington State College and received a bachelor's and master's degrees in Bacteriology and Public Health in 1951 and 1952. In August 1951 he married Martha Viola Merrow in Tacoma, Washington. They moved to Madison, Wisconsin where he received a PhD degree in Bacteriology from the University of Wisconsin in 1955. They had two sons, John and David, while in Madison.
In August 1955 they moved to Laramie, Wyoming where he was employed in the Department of Veterinary Science, College of Agriculture, University of Wyoming. He taught microbiology classes and cuducted research in the Department of Microbiology and Veterinary Medicine at the University, retiring in July 1991. Three children were born while in Laramie: Carol, Steven, and Barbara. During his 36 years of employment he received the Amoco Foundation Teaching Award, the Ellbogen Meritorious Teaching Award, and the College of Agriculture Outstanding Teacher Award. He later received the 2009 College of Agriculture and Natural Resources Legacy Award. He established the Leroy and Martha Maki Scholarship in the College of Agriculture.
He was active in the First United Methodist Church and sang in the choir for over sixty years. He was active in the Barbershop Harmony Society and was chorus director of the Laramie Gem City Gents for many years. He served on the board of directors for the Laramie Plains Museum. He researched and wrote a history of the First United Methodist Church in Laramie. He was interested in genealogy and family history and was a resource for genealogical research in Albany County.
He was preceded in death by his wife, Martha; son, John; and brother Kenneth.
He is survived by his sons, David Maki (Natascha) of Canton, OH and Steven Maki (Lissa) of Laramie, WY; daughters Carol Beber (Rich) of Sandpoint, ID and Barbara Maki-Tiede (Larry) of Phoenix, AZ; 11 grandchildren; and 10 great grandchildren.
A memorial service will be held 11:00 a.m., Saturday, September 15, 2018 at the 1st United Methodist Church, Pastor Pete Phillips, officiating.