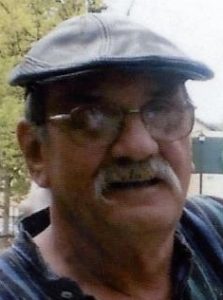 LeRoy "Rat" Vialpando, 70, of Laramie, died Tuesday, April 26, 2016 at Ivinson Memorial Hospital. He was born in Chama, Colorado on December 3, 1945 to Rosendo and Clarita (nee Vigil) Vialpando.
LeRoy grew up in Laramie, making new friends every day. As a young boy he sold newspapers every Saturday and as he grew older he had several construction jobs. He then worked for the Union Pacific Railroad and finished his career with Chemtron.
His greatest passion was his family and friends. Everyone that knew LeRoy knew that they had a friend for life with him. He had a love for traveling and he got to spend six months in Guatemala. LeRoy befriended two men while he was in Guatemala and brought them back to Laramie to help them pursue their educations and letting them board in his family home until they were able to find jobs and their own place to live. LeRoy was a very generous and caring man. He devoted a lot of his personal time into his love of cars, especially his 65' Riviera and his 56' Thunderbird.  He loved being outdoors in the mountains and he enjoyed dancing.
He was a member of St. Laurence O'Toole Catholic Church.
He is preceded in death by his parents; his sister, Dora Trujillo and her husband, Clarence; his brother-in-law's, Gilbert Sanchez, Wilbert Quintana, and Jesse LeRoy Vialpando; and his nephew, Jeff Arellano.
LeRoy is survived by his beloved son, Anthony Vialpando of Chowchilla, CA;  his brother's and sister's, Rudy Vialpando and his wife, Helen of Riverside, CA, Loretta Sanchez of Laramie, WY, Elva Vialpando of Laramie, WY, Rose Quintana of Gardena, CA, Anthony Vialpando and his wife, Terry of Laramie, WY, Rebecca Trujillo and her husband, Teddy of Laramie, Mary Romero and her husband, Tony of Laramie, WY, Maxine Vialpando of Laramie, WY, and Wilbert Vialpando of Las Vegas, NV. He is also survived by his 22 nieces and nephews; and his 41 great nieces and nephews.
Vigil and Rosary services will be at 4:30 p.m. Sunday, May 1, 2016 at St. Laurence O'Toole Catholic Church.
Funeral Liturgy will be held at 11:30 a.m. Monday, May 2, 2016 at St. Laurence O'Toole Catholic Church with the Reverend Fr. Dave Erickson. Interment will follow at Greenhill Cemetery.
LeRoy's family would like to thank all of the nursing staff at Ivinson Memorial Hospital and the Meredith and Jeannie Ray Cancer Center.
Services are under the direction of Montgomery-Stryker Funeral Home. To send condolences or to sign the online guestbook go to www.montgomerystryker.com