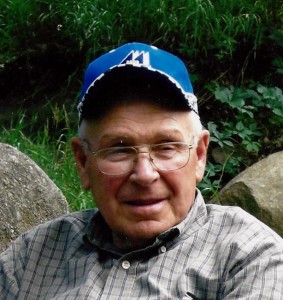 LeRoy E. Graham, beloved husband, father and grandfather, died Friday, February 12, 2016 at his home surrounded by his family.  He was born August 13, 1934 in Rock Springs, WY to Filmore and Alta (Morton) Graham.
LeRoy married Joan L. Krause on October 6, 1954 at his parent's home in Green River, WY. Together they were blessed with four daughters.  LeRoy was a quiet unsung hero with a gentle heart.  His family meant the world to him and he worked diligently throughout his life to provide for them and to be there whenever they needed him.  He loved them absolute and unconditionally.  He enjoyed camping, hunting and fishing and always included his girls in these activities.  He was always an outdoorsman and cowboy at heart and loved working with animals, he had a soft spot for animals in need and many times we had calves in our kitchen or adopted the unwanted horse, dog, cat or other animal.  He acted tuff but when his girls brought something home he always gave in.  He was a great husband, dad and grandfather and taught us all how to never give up and give it all you have no matter what the situation.  He was strong, enduring many health issues but always had a great attitude, stayed positive and believed that everything would work out.
LeRoy worked at many different jobs throughout his life to provide for his family.  He worked for the Bosler Ranch, The Diamond Horseshoe and then for the next 27 years he worked for the Wyoming Department of Transportation until his retirement.  He loved to keep busy so after his retirement he went to work for SPIC and SPAN Laundry.  He was a dedicated employee and made lifelong friendships along the way. LeRoy also served in the Army National Guard, and received the Top Cow Hand Award earlier in his life.
LeRoy and Joan spent many years square dancing at the Quadra Dangle; they enjoyed their family and liked to travel when they had the chance. He was a member of St. Matthew's Episcopal Cathedral.
He is preceded in death by his parents; his sister, Nancy Bernal; and his brother, Joe Maldonado.  He is survived by his wife of 61 years, Joan L. Graham of Laramie; four daughters, Billie Smith (Mark) of Cheyenne, WY, Gail Trujillo (Dino) of Laramie, WY, Carrie Miller (Leonard) of Laramie, WY, and Kay Luft (Brad) of Windsor, CO;  six grandchildren; 14 great grandchildren, and one great-great grandchild.
Memorial services will be held at 10:00 a.m. Friday, February 19, 2016 at St. Matthew's Episcopal Cathedral with the Very Reverend Stephen Askew, officiating. Honorary pallbearers: Pat Spear, Pat Parker, Dick Hodges, Chris Thobro, and Bill Gillespie.  Inurnment will follow at Greenhill Cemetery.  Reception will follow.
            In lieu of flowers, memorials may be made to the Cathedral Home for Children, 4989 North 3rd St Laramie, WY 82072 and/or Boys Town, PO Box 6000, Boys Town, NE 68010-9988.