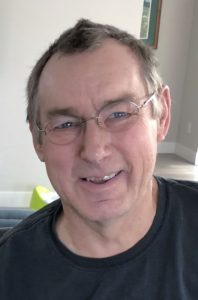 Larry George Schnitker
July 3, 1949 – December 21, 2017 
On December 21, 2017 Larry passed away peacefully in his Peoria, Arizona home with his wife of 38 years, Beverly, by his side.
Larry was born in Council Bluffs, Iowa on July 3, 1949 to Jack Schnitker and Alice (Soppe) Schnitker. Larry came from a large family – the second oldest of 8 children. Larry was raised and loved country life on their family farm near Neola, Iowa. He attended elementary school in Neola and graduated from St. Alberts Catholic High School in Council Bluffs. 
After his high school graduation in 1967, Larry was drafted in to the Army and served two years, spending a year of that in Germany. 
After his service in the Army, Larry spent two years in Colorado learning the drywall and sheetrock trade. He then moved to Laramie, Wyoming in 1972 where he made his home. 
Larry used his drywall skills to begin his career in Laramie which soon turned in to running the successful business, Schnitker Sheetrock. 
He met and married the love of his life, Beverly Ivy, in 1980. 
They built their home in Laramie with the help of many close friends. Larry once quoted " it didn't cost me a lot of money, but it sure did cost me a lot of beer". 
They were blessed with three children:  Aaron, Brian, and Laura. 
In 1985, Larry made a life changing decision for himself and his family. He found sobriety and with the help of AA turned his life around. He became a sponsor to many in the community whom became life long friends. 
Larry became very involved in all three of his children's sports, spending countless hours and weekends traveling to various places to coach baseball, soccer, and hockey. Larry even laced up the skates himself! 
Larry's passion for his children's favorite sport led him to play an instrumental role in the Roof the Rink Project helping to build Laramie's indoor ice arena. 
Larry worked hard – he loved Laramie and the Rocky Mountains. He found time to enjoy horses and spending time at the beloved Schnitker cabin with the whole family.  One of Larry's greatest joys was becoming a grandfather. 
Larry and Bev were also able to fulfill a lifelong dream of becoming snow birds and buying a house in Peoria where Larry retired and they soaked up the Arizona sunshine for seven years. Larry quickly made friends at the weekly poker games and shooting pool at the clubhouse. 
Larry's children, grandchildren, nieces, and nephews all held a very special place in his heart. 
Larry loved the people of Laramie and living in Wyoming. To everyone who shared his life – thank you for being a friend, co-worker, or neighbor. Once a friend of Larry, always a friend of Larry. 
Larry is preceded in death by his grandparents, father Jack, his mother and father-in-law Nada and Grady Ivy, brother-in-law Randy Joyner, nephew Michael Armijo, and his great nephew Hudson Moore. 
He is survived by the love of his life Beverly, his son Aaron (Hannah Kleinhans), son Brian, and daughter Laura (Sam Styles), five grandchildren – Lola, Alma, Upton, Watson, and Isla, mother Alice, brothers John (Kris), Mike, and sisters Janice Ankle (Paul Howard), Linda, Marcia (Wayne Lenard), Cathy (Ronnie Armijo), and Carol Smith, brother-in-law Mike Ivy (Patti), and sister-in-law Becky Ivy Moore and numerous nieces, and nephews.  
Memorial donations can be made to Hospice of Laramie, Laramie Amateur Hockey Club, or a meaningful charity of your choice.
A memorial service will be held at The University of Wyoming Conference Center at the Hilton Garden Inn on Saturday January 6th, 2018 at 11:00 AM. 
Per Larry's request a party celebrating his life will take place at The Bear Tree in Centennial, Wyoming on July 21, 2018.