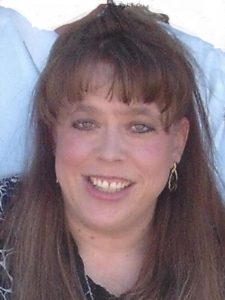 Kristine JoAnne deJong was born April 8, 1974 in Murray, Utah. She passed away peacefully on May 12, 2018, after a two-year battle with melanoma in Laramie, Wyoming.
Kristy was an absolute joy as a child, and always made friends easily.  Her kind nature and loving demeanor made everyone around her feel special.  She married Jason Lee deJong on July 27, 1995 in the Denver, Colorado LDS Temple.  They were blessed with two lively boys who always keep things interesting.  Her gifts of love and compassion were always on display in raising her boys and working with children as a day care teacher.  Her friends and family never lacked for kind words and encouragement.
Kristy has taught us all what it means to fight valiantly, love unconditionally, serve happily, and pass gracefully.  She is most assuredly in the presence of angels and loved ones previously passed.  She is happy and without pain.  This world is better for her having been here, and Heaven is better for her being there.
Kristy is survived by her husband, Jason Lee deJong; sons, Jason Lee deJong Jr. and Joshua Jarom deJong; father, Kenneth Carl Jackman; mother, JoAnne Hazel Jackman; sisters, Angela Randall (Dave) and Heidi Eberly (Ray); brother, Kenneth Shane Jackman; sister from another mother who was holding her hand when she passed, Robin Rene Rucker.
Funeral services will be held at 10:00 a.m. Saturday, May 19, 2018 at the LDS Church on 15th and Baker St. with a burial following at Greenhill Cemetery.
Visitation will be from 5-7 p.m. Friday, May 18th at Montgomery-Stryker Funeral Home and again Saturday at 9 a.m prior to the service at the church.