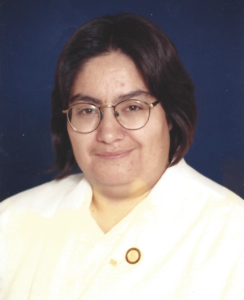 Kimberly K. Candelaria, 49, of Laramie passed away Wednesday, March 29, 2017 at the Hospice House of Laramie after lengthy illnesses.
She was born June 27, 1967 in Laramie, the youngest of fourteen children to Daniel and Melinda (Martinez) Candelaria. She attended Laramie schools and then attended the University of Wyoming, graduating with a degree in Nursing. She then began her career in nursing at Ivinson Memorial Hospital before her illness forced her to give up her life's passion.
She always had a kind and compassionate heart that would do anything for the people she loved, whether you needed help or a place to stay, she always had an open door for family or friends alike. She loved spending time with her family, friends and furry babies. She will be greatly missed by her family.
She is preceded in death by her parents, brothers Leroy and David and sister, Dora Loftin.
She is survived by her sisters; Mary, Sylvia, Susan and Carmen (Steve) of Laramie, Rosalie of Evanston and Laurie Candelaria-Cruz of Salinas, California, brothers; Larry of Laramie, Daniel Jr. (Merry) of Casper, Rick of Douglas and Bernard (Shari) of Phoenix, Arizona and brother-in-law, Raymond Loftin. She is also survived by numerous nieces, nephews, great-nieces, great-nephews, cousins and extended family and friends.
A vigil service is scheduled for 1:00 p.m. Monday, April 3 at St. Laurence O'Toole Catholic Church with a funeral liturgy at 1:30 p.m. with The Reverend Father Dave Erickson, celebrant. Interment will follow at Greenhill Cemetery.