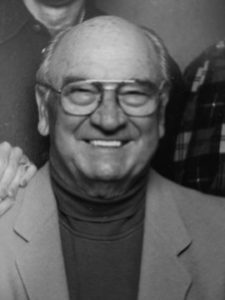 Kenneth L. Cook, 97, formally of Laramie, passed away July 19, 2018, in Goodyear, Arizona, of natural causes.
Ken was born in Alliance, Nebraska, to Emma Bollhoefner Cook and Lloyd L. Cook.
In the eighth grade, the Cook family relocated from Nebraska to homestead in Riverton. During this time in his life, he found a passion for football. Ken also found the love of his life and married Evelyn L. Judkins, and they were married Aug. 8, 1942, in Fort Benning, Georgia.
Ken went to the University of Wyoming on a football scholarship. He graduated with a degree in animal husbandry and a commission in the U.S. Army, where at the age of 26, he became a battalion commander and a rank of major. After leaving the army, he pursued his degree in agriculture as a county agent in Billings, Montana, then went on to the Northern Pacific Railroad, which became Burlington Northern Railroad. Being promoted many times, the family moved to Seattle, Washington, Spokane, Washington, and Billings, Montana, back to Seattle, then to St. Paul, Minnesota, and ended his career in Denver as the executive director of the Burlington Northern Railroad. After all this time, his love was still with the University of Wyoming, so he and Evelyn were on the move once more, this time to Laramie.
Ken then started his next career volunteering his time with the athletic department and alumni association. Ken always said he "became a professional beggar." Ken achieved many awards from the university.
He is survived by daughter Kay Seif (Leonard); son Walter Cook (Joanne); grandson Adam Cook; four step-grandchildren; and his great-grandchildren, nieces and nephews. He was preceded in death by his parents; wife Evelyn; brother Henry Cook; and grandson Charles Cook.
Services will be at 10 a.m. Sept. 22, 2018, at St. Matthew's Episcopal Cathedral.
The family asks instead of flowers, a memorial fund supporting University of Wyoming athletics has been established in Ken's memory at the University of Wyoming Foundation. Contributions to this fund can be sent to the foundation at 222 S. 22nd St. Laramie, WY 82070. Contributions to Ken's memorial fund can also be made at www.uwyo.edu/foundation.