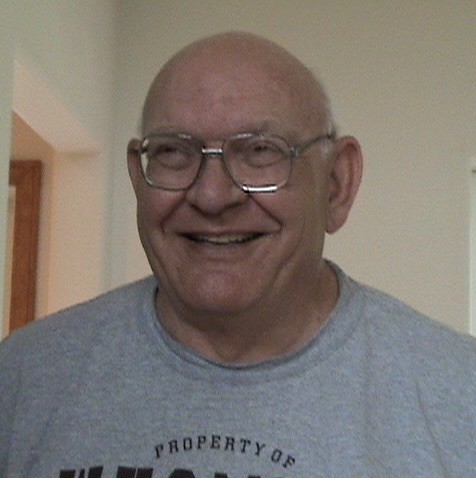 Kenneth Gene Moore of Laramie, Wyoming, passed away on Monday, August 30, 2021, at the age of 86. After several years of declining health, our loving husband, father, grandfather, and great-grandfather died peacefully at home with his family close by.
Ken was born in Worland, WY, on May 10, 1935, to Jesse and Genevieve (Schneider) Moore. A former Cody High School Bronc (Class of '53) and University of Wyoming Cowboy, Ken was an accomplished scholar athlete in three sports – football, basketball, and track & field. He graduated from UW in 1957 with a degree in Civil Engineering (Architectural Option).
Ken met the love of his life, Dorothy Ann Travis, during his senior year at UW, and the two were married in June 1957. Four children and a lifetime of school projects, sporting events, dance recitals, outdoor activities, and rafting adventures (and misadventures) followed shortly thereafter.
When his kids took up competitive swimming, Ken (and Dorothy) jumped in with both feet, becoming ardent supporters of the Laramie Swim Club. Nearly every weekend for 20 years, Ken would gas up the family station wagon and drive a carload of swimmers to an AAU swim meet. He would then spend the entire weekend either officiating the meet or cheering from the stands. Over the years, hundreds of swimmers across the State got to know "Mr. Moore," and he considered each one of them "his kids."
In later life, Ken took to the sidelines of baseball, softball, football, and soccer fields; cross-country tracks; volleyball and tennis courts; swimming pools; and gamelan and music concert halls to cheer his grandchildren on in their athletic and music endeavors.
In even later life, "Papa Moore" dressed up and played Santa Claus, bringing laughter, hope, and joy to generations of children in Laramie.
On top of a full family life, Ken managed a very successful career as a structural engineer for Banner Associates, working on a number of high-profile construction projects around Wyoming and the Western U.S. If you've ever driven across a bridge or stopped at a rest stop in Wyoming, chances are it was one of Ken's designs. His favorite projects over the years included the I-80 tunnels near Green River, WY; a seven-bridge interchange in Spearfish, SD; the Grayrocks Dam near Wheatland, WY; and the Wyoming Infrared Observatory, located on the summit of Jelm Mountain.
To say he led a full life would be an understatement. It's easier to say he led two complete lives.
Ken was preceded in death by his parents, his brother Bob, and his sisters Karen and Barbara. He is survived by his sister Kay (Greg).
He is further survived by his wife Dorothy, children Carrie, Kyle, Carol, and Karl; daughters-in-law Elizabeth and Kris; grandchildren Jared (Amanda), Josh (Marie), John (Allison), Jenna (Ryan), Alex, Rachael, Ben, and Aubree; and great-grandchildren Cooper, Charleigh, and Reece.
"Uncle Kenny" is also survived by countless nephews and nieces, and great-nephews and -nieces, all of whom he dearly loved.
Ken leaves behind a robust legacy of honesty, integrity, perseverance, and helping others. He also leaves behind:
Lasting memories of his warmth, smile, and great sense of humor;
Unforgettable stories of his youth, from living in Yellowstone to working for a circus;
A passion for Astronomy, fishing, and Rocky Mountain Oysters;
Thousands of science fiction and National Geographic magazines;
A ton of engineering books, tools, and drafting instruments;
Some over-the-top fourth grade "Wyoming History" dioramas he helped his kids and grandkids with; and
A handful of engineering-related phrases that will haunt contractors and family members alike forever, including. "Measure twice; cut once;" "If you can't find time to do something right the first time, how are you ever going to find time to fix it?" and our favorite, "You've got more excuses than Carters' got pills."
His heartbroken family is going to miss Ken for the rest of our lives, but all of us are extremely grateful we had him for as long as we did.
No public service is planned at this time.
In lieu of flowers, donations may be made in Ken's memory to the Laramie Swim Club Scholarship Program (c/o Laramie Swim Club, PO Box 949, Laramie, WY 82073) or Toys for Tots (www.toysfortots.org).