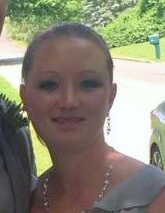 Kathrine "Katie" MacClugage, 30, passed away June 24, 2018 at the Medical Center of the Rockies in Loveland, Colorado. Kathrine was born July 5, 1987 in Pompton Plains, New Jersey to Philip and Laura Schneider.
Katie grew up in Vernon, New Jersey, where she graduated from Vernon Township High School in 2005. She later attended the Westminster Choir College located in Princeton, New Jersey. She then received an Associate degree from the music program at the County College of Morris in Randolph, New Jersey.
Katie married Andrew MacClugage in October of 2009 in Laramie, Wyoming and started a family. Katie earned a Bachelor of Science in Early Childhood Development from the University of Wyoming in 2016.
Katie was a beloved homemaker and caregiver. She always expressed a love for being together as a family. One of her fondest memories was camping trips throughout the years as a family. Katie's children were her pride and joy, and the love she had for them will never be forgotten. Being a mother was her main role and one in which she took great pride in. She was a member of the First United Methodist Church where she expressed her love for singing and choral music.
Kathrine is survived by her husband, Andrew (Laramie); parents, Philip and Laura Schneider (Englewood, CO); Grandfather, Don (Centerville, TN); children Daniel and Krista (Laramie); brother, Steven (Englewood, CO); sister, Jessica (Janesville, MN); and several aunts, uncles, and cousins. Katie is preceded in death by her grandmother, Lois Haight, and cousin, Eric Malmberg.
A visitation will be held on Friday, June 29, 2018 from 4:00 p.m. to 7:00 p.m. at Montgomery-Stryker Funeral Home. A memorial service will be held Saturday, June 30, 2018 at 10:00 a.m. at the First United Methodist Church. In lieu of flowers, memorials can be made to the Kate MacClugage Scholarship Fund for Music at Western States Bank.