Kam Hing Chiu, better known to most as "Mama", 85, of Laramie, died Thursday, September 6, 2018 surrounded by family. She was born February 11, 1933 in Canton, China. She married Roy Fat Nam Chiu in Canton in 1952. She and her family came to Rock Springs from Hong Kong in August 1969. In 1975 they move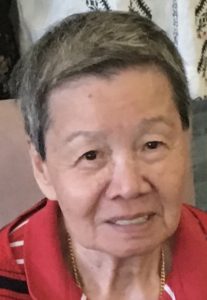 d to Laramie where they opened Rose's Café Chinese Restaurant, which her family operated for 31 years until it closed in 2005. Mama enjoyed cooking her famous sweet and sour chicken, shrimp fried rice, and chicken soup for all who visited Rose's Café.
She was preceded in death by her husband, Roy Fat Nam Chiu. She is survived by her family, Gary Chiu and Rosenda, Laramie, Larry Chiu, Laramie, Denice Young and Calvin, Laramie, Amy Leung and Danny, Susanville, California, Linda Robinson and Gregg, Highlands Ranch, Colorado, Sonya Bainer, Laramie, 15 grandchildren, and one great grandchild.
At her request, no funeral services will be held. She will be laid to rest alongside her husband in Greenhill Cemetery. In lieu of flowers, memorials may be sent in the name of Hing Chiu to Hospice of Laramie, 1754 Centennial Dr., Laramie, WY 82070.